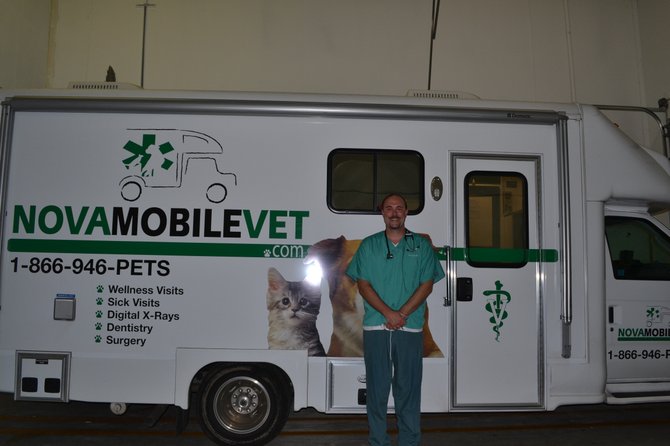 Most people associate going to the vet with wrestling their trembling pets into an animal carrier and dragging them into a cold, unfamiliar office. Eric Cryan, founder of Nova Mobile Vet, makes people discard this grim association.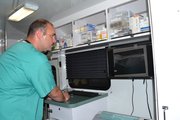 Nova Mobile Vet is a service that provides veterinary care to animals without their owners having to drag their pets to animal hospitals. Cryan started the service in 2011 when he was working as a stationary vet in McLean and noticed some people had trouble bringing in their pets, due to either their complicated schedules or restrictions on the animals' mobility. He thought that going to see the pets in their homes would make everyone more comfortable.
"People generally seem to really like it and the animals are more themselves," said Cryan. "I love seeing the dogs outside. [Also,] seeing an owner in a normal environment is very nice."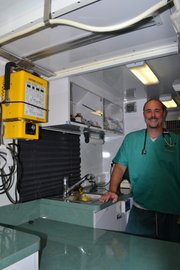 Cryan spends his days traveling with an assistant to visit different animals in the Alexandria, Arlington, Springfield, Burke, Fairfax and Fairfax Station areas. His appointments usually begin around 10 or 11 a.m., in order to dodge the area's traffic patterns. Sometimes, before hitting the road, he sees an in-house appointment at the Nova Mobile Vet office, which is in Lorton. He is usually back at the office by 6 or 7 p.m., where he may or may not have a final in-house appointment.
Although a van is certainly not as big as a regular vet office, Cryan and his team are not at a disadvantage. The van is equipped with an x-ray machine, surgical and dental supplies, and blood work machines.

"We have all the bells and whistles of a regular vet," said Cryan. "We just show up in your driveway."
While he does have the equipment of a traditional vet, Cryan does not conduct all of his cases inside the large, well-maintained mobile vet van. Sometimes, if he just needs to look at the animal without running any tests, he can visit with it in the backyard or see it in an enclosed area in its owner's house, where it feels more comfortable.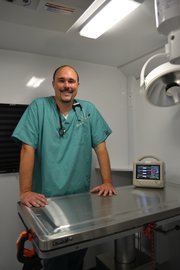 "It's nice to have [the equipment] and not need it than the other way around," said Cryan.
Cryan gives his clients a window in which he visits them to allow cushion time for congested traffic conditions. Many people book their visits online. Sometimes, however, Cryan receives an emergency call during the day and has to shuffle his whole schedule around. These days, he reflects, are the toughest. Even though he may have a list of visits lined up at the beginning of each day, he does not know who will contact him while he is on the road.
"Each day is a challenge," said Cryan. "I try to keep a positive attitude."
One of the biggest joys Cryan finds going from animal to animal is how comfortable the pets are in their own homes. He has had days where he has gotten to play with three Golden Retrievers in one visit and has encountered plenty of friendly puppies. Although some animals may at first be timid to enter his van for tests, the occasional pet will have a good time in there. He remembered a cat that simply did not want to leave the van even after its exam was over.
"I always think that's a good sign," said Cryan.