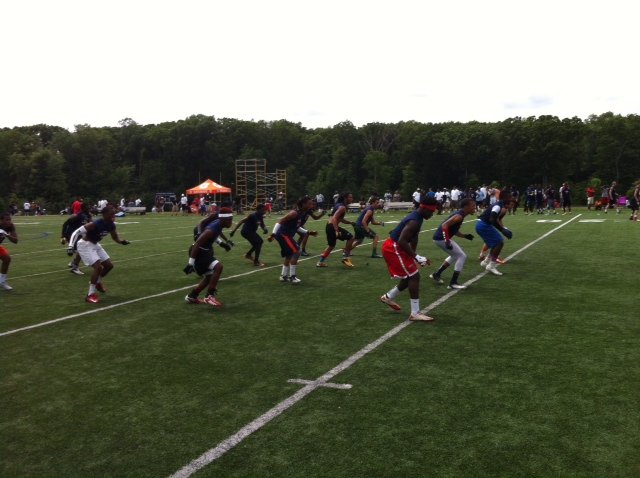 Hundreds of high school football players took the two fields at Flint Hill Upper School for the All-American Football Camp. There were participants, rising freshman, sophomores, juniors and seniors, from all across the mid-Atlantic region including Delaware, Ohio and the Carolinas. They came and stayed through the varying weather conditions of desert heats and gushing rains to put in the effort and get better.
Over four hours of grueling position workouts, offensive and defensive drills, and one-on-one they commanded the respect of the numerous collegiate coaches in attendance. There were even two representatives from the Washington Redskins who helped coach the offensive and defensive lineman. Over the past two years, over 100 athletes who have attended the camp are playing NCAA football, including 48 who received Division I scholarships in 2012.
Among those who have received a football scholarship is Lake Braddock quarterback Caleb Henderson. The 230 pound, 6-foot-4 North Carolina Tar Heel commit joked about turf toe and always vocally celebrated enthusiastically when anyone made a big catch down the sideline during the one-on-ones, no matter who threw it.
IT WAS UNCERTAIN whether or not Henderson would be able to attend the camp; however, he said that it was because of coach Kavanaugh that he came. "This camp is really fun, I'm glad I came out today," said Henderson. "I was debating whether to come because I just came back from the Elite 11 in Ohio yesterday, but I haven't seen coach K in a while. He's a great guy and I like him a lot."
Another player who did not escape the attention of Kavanaugh was Centerville's linebacker Chad Wiggins who runs a 4.67 forty, stands 6-foot-1 and weighs 230 pounds and is a top linebacker in the Northern Virginia region. Wiggins' favorite part about being a linebacker is, of course, getting to hit people. Wiggins also loves the "exposure of the camp … hanging with these guys and … show[ing] off what you've been working hard for." The Linebacker MVP of the camp, Wiggins is considering Virginia Tech, yet wants to enjoy his senior season at Centerville first, looking forward to "winning a state championship next year."
Before the camp ended and the sky opened up there was what the players took as the greatest drill of them all: the trenches. Here defensive and offensive linemen battled mano a mano in a simulation where a tackling dummy is used as the quarterback. The goal is to either protect or attack. DeMatha's offensive lineman Devante Fox dominated this drill and the one time he was beat, sparking impromptu trash talk from his opponent. Fox silently answered with a swirl of his finger and pummeled his overmatched defender to the floor the next time around.
IN THE FINAL CAMP MEETING at midfield, Kavanaugh introduced pastor and Kansas University's character coach Randy Beeman to the group. Beeman stressed the importance for young athletes to have their lives in order, to prioritize and become men of character. He focused on the usefulness of a guide, citing the Bible as his, and then asked for a volunteer and for examples of traits that men of character have. The volunteer was Jacob Atkinson and with each trait, integrity, trustworthiness, honesty, respect, and hence forth, Beeman place a brick in Atkinson's hand. The student from East Christian Academy in Delaware and the camp MVP held each five-stacked bricks before it became unstable and they fell to the turf. The moral was to provide a realization that even having these traits of character was meaningless without a solid foundation. A foundation, both Beeman and Kavanaugh hope, that can lead to success long after football.