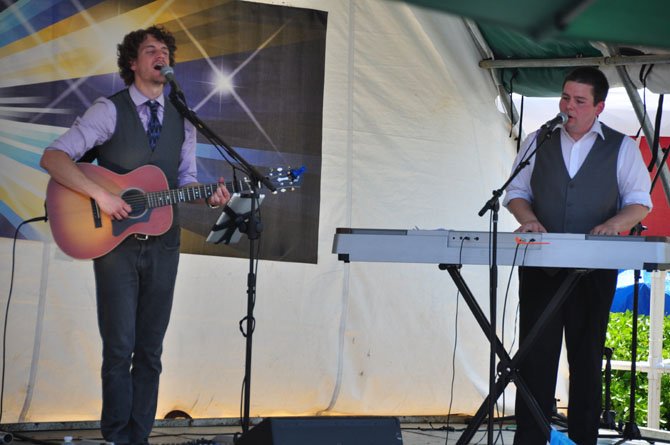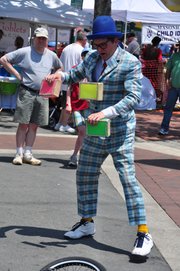 Herndon — By the time it gets to Saturday, the third day of the three-day annual Herndon Festival, Jimmy Schwein of Herndon knows exactly what he wants to do. Having grown up coming to the festival, he's used to coming at least three of the four days.
"My parents used to take me on the weekends, and when I was in high school I would definitely come Thursday, and maybe Friday and Saturday, so I know the best strategies to see the most," he said. "Thursday is the day to see the fireworks, because not a lot of people come, so you can get a good spot. Friday nights are fun because they usually have the best music. Saturdays are good until around 4 or 5 p.m., but then the real crowds come in. I try to be gone by the fireworks. And Sundays are usually really crowded, big lines on all the rides."
This year's festival was the 33rd annual edition of one of the area's largest outdoor festivals. The streets of downtown Herndon were turned into blocks of vendors selling food, art, wine, crafts and other items, while open spaces were turned into stages and live exhibitions.
"My favorite part of the festival is running into the acts that walk around, because they just sort of turn up, and all of a sudden there's a mini show going on," said Mike Weiss of Sterling. "We were all walking by some of the art displays when we saw this costumed lady on a unicycle. And she was just sort of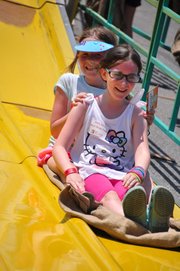 riding around inconspicuously, but sure enough, she started a performance."
Weiss and his family had come across the Unicycle Lady, who slowly pedaled around the event engaging visitors. Elsewhere was Rich Potter, a.k.a. Bert the Nerd, who wore a plaid suit and large framed glasses while performing a variety of tricks.
Also present was Spinny Johnson, a former member of the Harlem Globetrotters, who would start spinning a basketball on the tip of a pen, then try to pass it along to someone.
"I thought it would be fun to try and hold the pen with the basketball, but once he got it going, and it's this huge ball spinning really fast on top of a Sharpie, I got really nervous," said Jenny Salazar of Herndon. "I sort of freaked out when he passed it to me, I definitely screamed, but I kept it going for a few seconds, long enough for my friend to snap a picture."
The municipal parking lot between Center Street and Station Street was filled with carnival rides for those who wanted to get spun, dropped, turned upside down or just rammed into on the bumper cars.
"I can spend a full day at the carnival section, I usually do that early on in the festival, then I come back later for the music and other games," said Emily Johnson of Herndon. "If I'm not too busy during the festival, I can usually spend a whole day just watching the live acts, first at the Depot Stage, then the bigger acts start at night on the Town Green."