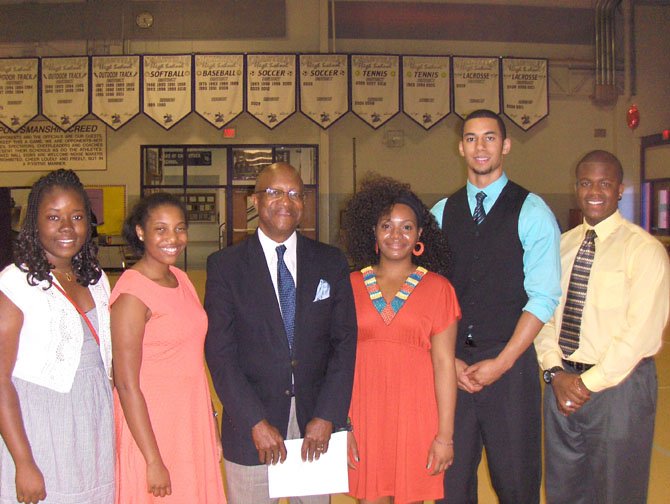 Centreville — Before the start of Saturday's 28th annual Youth Motivation and Academic Awards program for middle- and high-school students, Johnny Nelson texted his two grown children.
He told them, "Think of Mom and give God the glory for using her this way. It is because of her talents and dedication that we're here today."
"Mom" was the late Chantilly resident Shirley Nelson, who founded the Chantilly Pyramid Minority Student Achievement Committee (CPMSAC), which puts on the program. Her husband Johnny is the organization's president.
CPMSAC partners with schools and parents to both mentor minority students and encouragement their academic growth and achievement. And on June 1 in Chantilly High's gym, CPMSAC honored its program's best and brightest for their many accomplishments during this school year.
"Nearly 400 students came here today," said CPMSAC Executive Board member and emcee Chuck Coffin. "This is truly a celebration to recognize them for what they've done. So congratulations, and I encourage you to aim high and continue to focus on excellence in all you do."
FCPS School Board members Kathy Smith and Ted Velkoff were also there, as were other school system administrators, plus representatives from Centreville, Chantilly, Westfield and Mountain View high schools and Franklin, Liberty, Rocky Run, Stone and Rachel Carson middle schools.
"The students here should all be proud of their achievements," said Chantilly Assistant Principal Shawn Frank. "For 29 years, CPMSAC has been giving assistance and perseverance to our students — qualities you can take with you through college and afterward."
"Not everyone has someone in their corner, encouraging them to study and be a success," said FCPS Deputy Superintendent Richard Moniuszko. "Smart is not something you are, but something you get by reading, working hard in school and being exposed to different ideas. And you've been doing that by also going to the CPMSAC after-school and Saturday mentoring programs."
Reminding students that they "can't do it alone," he advised them to study with people who know more than they do. Moniuszko then thanked Johnny Nelson and all the other CPMSAC volunteers for "all their hard work over the past 29 years."
Velkoff told the students to "believe in your dreams. Find your passion — what excites you — and strive to achieve your goals. Parents, these students are a testament to all the love you have for them and all the hard work you've put into them. CPMSAC is a wonderful organization with volunteers dedicated to helping parents assist their children, and I encourage everyone to help by either volunteering or contributing dollars to it."
Coffin said many students told him how attending CPMSAC'S Saturdays Toward Excellence Program (STEP) and Project BEST (Building Excitement for Science and Technology) program has helped them raise their grades from Cs to As.
He then introduced keynote speaker Taylor Young, a Westfield grad and a rising sophomore at North Carolina A&T State University. Majoring in multimedia journalism, she made the dean's list, honors program and freshman honors society and hopes to someday have her own publication, run a nonprofit, help children and educate people.
"Fight for your education; fulfill your dreams because it is possible," she told the students. "It's important to form relationships with the adults around you. Work hard and feel like you earned your dreams. Take it into your own hands and take in as much information as you can; it'll help you in the long run."
Young said honor students get privileges other students don't, "and that opened up a lot of doors for me and helped me branch out more. There are people who can help you, so go to them and ask for it, if you need to. I did this with one of my professors. And if you fall, you have to get back up. We are the future — the ones who'll be making a difference in the world."
Students who make the right choices while in high school will find that things will just get easier for them, said Young. "Each and every one of you is special," she said. She then had all the awardees stand and say together, "I am somebody; I have the power to change the world." Added Young: "As long as you fight for your own education and your own self, you will be successful."
Next came the presentation of awards, with all seniors receiving plaques with their names on them. In addition, Westfield's Destiny Ayers won the $1,500 Shirley O. Nelson Memorial Scholarship. She'll attend Virginia Tech and major in microbiology/immunology.
Receiving the Cameron Guy Dudley Book Scholarship Award were Centreville High's Jonea Ahousissoussi and Fatoumata Barry, Chantilly's Deveri White and Bryan Sydnor, and Westfield's Kaj Gumbs.