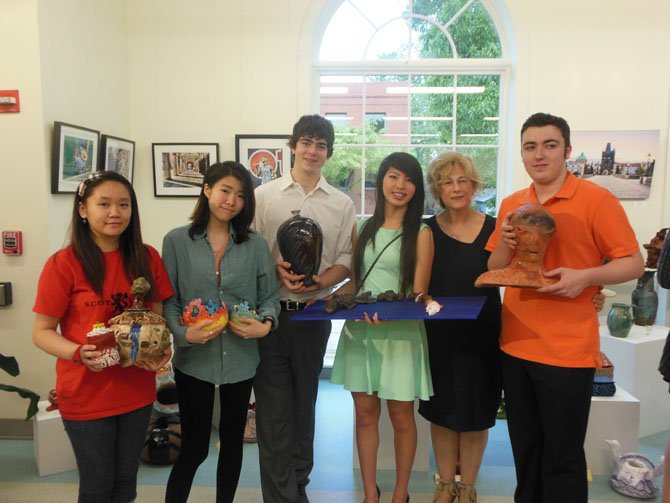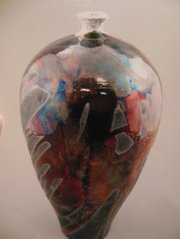 Centreville — Centreville High School students won three of the 15 awards presented recently at an annual, high-school ceramics competition sponsored by The Clay Connection. These included two out of the three Best in Show honors.
Junior Jordan Axelrod won the President's Award for Best in Show for his piece called "The Devil Inside." Receiving the Jurors' Award for Best in Show was classmate Jiyae Han for her entry, "Colors of the Sea." A third Centreville student, junior Mary Do, took home second place in the Mixed Media category for her piece called "Chopped."
The Clay Connection is an organization that promotes clay arts in the Washington Metropolitan area. To recognize the area's best in student ceramics, it sponsors a contest open to all Northern Virginia high-school students.
This year's event was held in partnership with the Office of the Arts and the Alexandria Commission for the Arts. Nearly 100 pieces were submitted from 89 students attending 11 different schools.
They were all judged, and then awards were presented at a May 15 ceremony at the Durant Arts Center in Alexandria. Each item was judged on quality, creativity, aesthetics and the use of clay in the categories of wheel-thrown vessels, hand-built vessels, mixed media and sculpture.
Centreville High's participants are all students in teacher Rory Marcaccio Schaffer's Ceramics I and II classes and, she said, "I am very proud of all of my students." Besides those who won awards, said Schaffer, "Alissa Damato, Christian Hall, Min Kyong Han, Ye Chee Lee and Jessica Crawford also created outstanding pieces."
At Centreville, she said, "Students undertake a rigorous exploration of the clay medium, giving then an opportunity to create a body of work that is unified in direction, shows a significant degree of creative growth and enables innovative solutions for personal expression."
Axelrod said winning such a prestigious award for his work, "The Devil Inside," was particularly meaningful to him. "'The Devil Inside represents the constant struggle between good and evil," he explained. "And even if evil seems take over your life, it can never take your hope. This is representative of my own struggles, and being recognized for this piece represents closure to a hard chapter in my life."
Han called it "an extraordinary experience" to participate in this competition because it's "focused on clay crafts, rather than the broad spectrum of art materials. I was surprised that I won the Jurors' Award because everyone was so good. I'm so glad this opportunity was given to many students, including myself, and I thank The Clay Connection.
"I often feel as though clay is an underappreciated media, and people don't see the versatility and beauty that clay can create," said Do. "Seeing all the different pieces that kids my age were making was a great experience and showed me that I still have room for improvement." She said her award-winning creation represents "the growing problem of overfishing all over the world. In winning this award, I feel as though this problem is being recognized."
Another participant, Stephanie Truong, won a Scholastics Silver Key award earlier this year and enjoyed being part of the clay competition, calling it "the last good memory" of her senior year. Min Kyong Han liked creating a piece with clay and seeing "what other students can do with clay."
As for mom Laurie Axelrod, she was thrilled with her son Jordan's achievement. But she said the overall strong showing of Centreville's talented artists should be "attributed to the dedication and guidance of their teacher, Rory Marcaccio Schaffer."