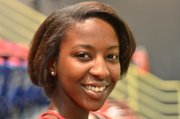 "Snow White and Rose Red" by Carter Burch will be shown in a June 15 to June 30 production at the Industrial Strength Theatre at 269 Sunset Park Drive in Herndon. This show does not feature the 12 Disney dwarfs, but does feature strong female leads, a hidden treasure and a prince who undergoes a metamorphosis.
Rose Red and Snow White are named for the beautiful roses that grow around their cottage. The two sisters adventure into the forest, help a stranger and dodge a crafty troll.
Director Leta Hall is pleased to return to the Elden Street Players' Theatre For Young Audiences. She previously directed "The Emperor's New Clothes" and "Red vs. the Wolf" at The Industrial Strength Theatre, as well as "Stone Soup."
"I've directed mainstage shows with other companies as well," said Hall. "The producer for this show, Mary Ann Hall, is an old friend of mine, and this is a great place to work. I like the story, and it is fun for the whole family. You got to love a show that has adventure, romance and an evil troll."
"As much as the show is about Snow White and Rose Red, the character of the Prince goes through the most change," said cast member Laura Fontaine. Fontaine plays one of antagonists of the play, the troll. Fontaine is also designing the character's looks. "She's very creative, and I love the physicality she brings to the troll," said Hall.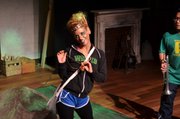 "The troll has a treasure in a hollow rock in the forest," said Fontaine. "Both the peasant girl Rose Red and the King have been searching for the troll's treasure. The Prince stumbles upon the troll and is transformed."
Fontaine uses her makeup skills for her character in the play.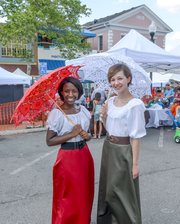 "I have been working with the Elden Street Players for about four years now," said Fontaine. "I have done work at both the Mainstage and Theatre for Young Audiences. I grew up in Herndon and work in Reston. My mom is Elden Street Players costumer Kathy Dunlap. I love doing theatre for young audiences, it's just fun to watch kids' faces brighten up so I like to bring that kind of joy."
Michael Hagan returns to Elden Street Players with a role of the Prince. "This is my third production with Elden Street," said Hagan. "I see the play is about realizing someone's inner potential. In the beginning the prince is kind of stuck up, but he learns to become a nicer person. There is plenty of comedy and both parents and kids will be entertained."
Nadia Duncan performs the role of Rose Red. "This is my second work with Elden Street. My mom is a professional actress and I started out with small roles as a child. It is a really fun show because it has good morals and a good message. The kids will enjoy it. I like it because Rose Red is a good role model and she has aspirations in wanting to become a scientist."
The production also brings new talent with Bonnie Morrison who plays the role of Mother to Snow White and Rose Red. "This is my first show here, I am fairly new to the area," said Morrison. "I studied Shakespeare at Mary Baldwin College. So far I have been having a great time, everyone has been really helpful. I have done children's theatre before, it's something I've always enjoyed."
Marissa Dolcich is returning to the stage as the villainous tax collector Dame Frumpstein. "She is in cahoots with the troll," said Dolcich. "I've been working with Elden Street Players for 11 years. I was attracted to playing someone different from whom I am. I have three costumes in this show which is the most I have ever had in my 11 years with Elden Street. Now my 14-year-old daughter will be helping with handling props in this production."
Production dates are Saturdays, June 15, 22 and 29 at 11 a.m. and 2 p.m. and Sundays, June 23 and 30 at 2 p.m. Ticket price is $8 for admission for both adults and children.