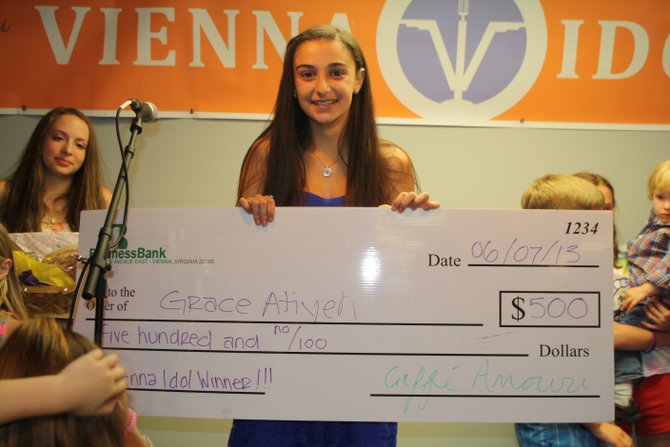 Six finalists waited through "The Final Countdown" to learn who would become the new Vienna Idol. From six, it came down to three in the June 7 competition.
Thirteen-year-old Grace Atiyeh, wowing the crowd with her classical voice interpretation of "I Will Always Love You," took the title of Vienna Idol 2013. Runner-up Amelia Lindsey and first runner-up Owen Plante rounded out the top three finalists.
"My first thought [when they announced the runners-up], was 'I won.' I was so happy."
Grace dedicated the song to her mother, Amal, who underwent spinal surgery for a tumor pressing on her vertebrae two years ago. The tumor broke several vertebrae and Amal spent a year in recovery. When her husband threw her a recovery party, Grace sang "I Will Always Love You" for her mother. Grace plans to donate her $500 prize to several charities.
The Flame Room of the Vienna Volunteer Fire Department overflowed with guests. The kitchen sold quick foods and Vienna Idol sold raffle tickets with gifts donated by local businesses.
Approximately 350 friends and families showed up to support their finalists. Supporters, in person and online, voted with dollar tickets. The performer with the most tickets in her name, won.
During the break between the two rounds, Ethan Schaefer, Vienna Idol 2012, performed onstage with his father, prominent musician Robbie Schaefer.
Vienna Idol, founded by Michael Amouri of Caffe Amouri, and title-sponsored by Whole Foods Vienna, PostNet, Vienna Smiles and The Business Bank, supports the Khristin Kyllo Memorial Fund. Vienna Idol, in its second year, raised $14,500 for the Khristin Kyllo Memorial Fund. Amouri coached Khristin in basketball at Madison and maintained a friendship with her parents.
The fund was founded two years ago by Khristin's parents, Julie and Tom, and it awards the Khristin Kyllo "Think Big" Scholarship and donates to SUDEP, Sudden Unexpected Death in Epilepsy. Khristin had finished her first semester finals at Princeton in 2010 when she died suddenly in her dorm room, two days before her parents expected her home for the holidays. She was a James Madison High School graduate and a softball standout.
More than 50 competitors auditioned over six weeks, and, the semi-finalists performed over Memorial Day weekend.
To learn about or to donate to the Khristin Kyllo Memorial Fund, go to khristinkyllomemorialfund.org. For photos and updates on Vienna Idol, go to https://www.facebook.com/events/160396620809025/?ref=ts&fref=ts.