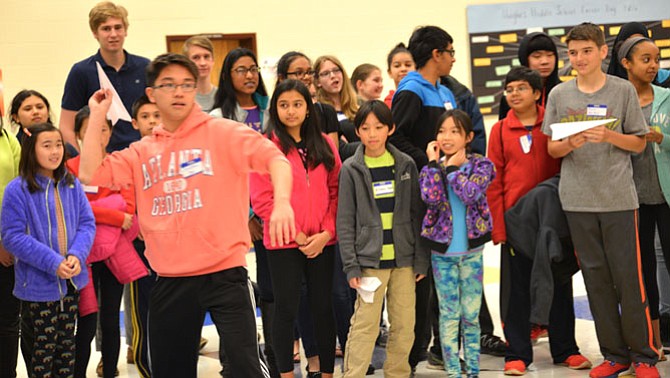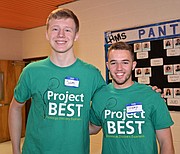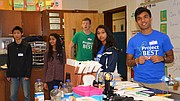 What could possibly have lured some 100 and more middle school youngsters back to a school building on a Saturday, especially if that school isn't theirs and they had to get up extra early just to get there? A sports tournament? Nope. A video gaming competition? Wrong again. Movies and pizza? Well…half right. There was pizza for lunch. Give up? Believe it or not, what packed them in on an unseasonably cold and dreary April 8 Saturday morning at Langston Hughes Middle School in Reston, was the fourth Annual Project BEST Science Innovation and Inspiration Youth Conference (ScI2YC).
The brainchild of Parth Chopra, Project BEST came into being in 2011 when he united with four of his classmates – all now alumni of Thomas Jefferson High School for Science and Technology (TJHS) in Alexandria -- to provide "unique and hands-on STEM (Science, Technology, Engineering and Maths) opportunities to…students in their most formative years." The founders may have moved on to highly respected universities to continue their studies, but they are all still board members of the nonprofit and do keep an eye on how Project BEST is going and growing.
The outreach organization, comprising a contingent of TJHS students, is directed at the middle school audience and takes particular interest in reaching out to schools and students where STEM subjects may not be the core curriculum or where resources may be thinner than at some other schools. "We do whatever it takes so that kids don't pay for our programs," said George Perry, who along with his co-operations officer Sam Desmarais are the current chiefs of the Leadership Team of Project BEST. The two are seniors at TJHSST, so they will soon be passing on the leadership baton. "It's probably been my largest time commitment outside of my schoolwork," admitted Desmarais, "but it's definitely been worth it."
Revolving around Project BEST's three founding principles of Knowledge, Discovery and Experience, the ScI2YC is a daylong adventure in experimentation and team building, with some guest speakers, time to make new friendships and a chance to interact with those "cool, slightly older kid-teachers" who share the same interests but aren't out of age-reach yet. In between conducting experiments in chemistry and physics, quite a few of the attendees asked their team leaders a lot of questions about getting in to THJSST and what attending a STEM-centered school was like.
After splitting into teams and getting started with a Paper Airplane Build and Fly competition – which was won by Team Big Pumpkin – the teams went off for multiple rounds of engaging experiments. The groups reconvened to listen to guest speakers and lunch, but then it was back to more hands-on activities and educational interaction. In the "Lava Lamp" lab, the younger students wowed their older counterparts with their impressive knowledge of chemistry concepts and principles.
The annual ScI2YC is the "main event" on Project BEST's calendar, but they do other outreach and connecting with their growing network of chapters, all teacher-sponsored but high school student-led. The group believes that access to STEM resources and opportunities is for everyone, "regardless of background and socioeconomic status." Their latest means of spreading the word as far as possible is to offer free "STEM Kits" sent to respective schools as "care packages" filled with hands-on experiments in chemistry, physics, biology and electricity. Those interested in a Kit can make their request at projectbest.usa@gmail.com. More information on Project BEST, including starting a chapter, volunteering, or donating to help them continue their efforts is available at www.theprojectbest.org.