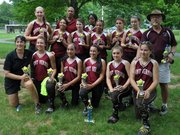 Mount Vernon — The Mount Vernon Youth Athletic Association's 18U All Star team won the 2013 Northern Virginia House 18U All Star Tournament Championship that was held June 15 and 16, at Wakefield Park. The Mount Vernon All Star team, sponsored by MVYAA, was composed of girls ages 11-15. The team won all of its games in the 2013 All Star Tournament including the championship game, beating the Southwestern Youth Association All Stars 4-3.
The Mount Vernon team won both its pool games on Saturday to earn the #1 seed in Sunday's elimination play. On Saturday, Mount Vernon defeated the Northern Virginia Girls Softball 18U All Stars in game 1 and the Braddock Road Youth Club 18U All Stars in game 2.
It was a tight race for the #1 seed between the Mount Vernon girls and the SYA team. Since MVYAA and SYA had won both their pool games, the #1 seed was determined by "runs allowed" in pool play. The Mount Vernon All Stars nudged out the SYA team for the #1 seed by allowing only 3 runs in pool play while SYA allowed 5 runs in their two pool games.
In Sunday's elimination play, the Mount Vernon team eliminated the NVGSA All Stars in their semifinal match-up. The SYA team also won their semifinal game to advance to the championship game. This set up a battle between the #1 and #2 seeds.
In the championship game, the "home" Mount Vernon All Stars took a 3-0 lead in the bottom of the first inning and never relinquished the lead. SYA scored 2 runs in the top of the 5th inning, but Mount Vernon answered with another run in the bottom of the 5th. SYC added a run in the top of the 6th, but that was not enough as the game ended with Mount Vernon on top 4-3.
Coach Mitch Rockwell praised pitching aces Erin Rockwell and Susannah Anderson and all of his pitchers, including 12-year-old rookie Haylee Womer.
Catching duties were shared by Hannah Talbert, Harley Divine, and Katie Hutchinson. The defense was rounded out by third basemen Sophia Castillo and Jazmyn McClure and first basemen Tabatha Salcedo and Tiffany Stowers in the corners. Camry Jones and Lena Gravini completed the defense at second base and in the outfield.