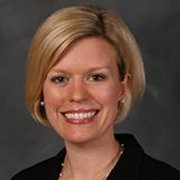 Centreville — Wendy Santantonio has joined McEnearney Associates Inc. Realtors as a Realtor in its Alexandria office.
Santantonio grew up in Cleveland, Ohio, and graduated from Miami University with a B.S. in business. In 2000, she became an Alexandria resident. She spent the first decade and a half of her career specializing in non-profit marketing and event management. The skills she honed in this field, including contract negotiation, attention to detail, and the ability to juggle multiple responsibilities under tight deadlines, eased her transition into real estate.
She and her husband purchased their first home, a fixer upper, in Old Town Alexandria in 2003, which they share with their two four-legged family members. Between house projects, they run a DIY blog, OldTownHome.com, providing renovation tips and tutorials, decorating advice, a glimpse into the charm and character of Old Town Alexandria and surrounding areas, as well as insight into the ups and downs of a DIY renovation spanning more than a decade.
A self-confessed home and design enthusiast, Santantonio has been featured in several online and print publications. In addition, her home was featured on the 2012 Scottish Christmas Walk Designer Tour of Homes in Old Town Alexandria.
To reach Santantonio, call 703-625-8802 or 703-286-1308.
See https://www.facebook.com/WendySantantonioREALTOR.