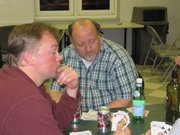 What can happen when some old Irish buddies get together to play cards with plenty of whiskey around to whet their story-telling appetites? And, what if there are plenty of unexpected turns into the supernatural as a mysterious stranger appears with his own peculiar agenda that alters the goings-on.
That is the crux behind the Elden Street Players production of Irish playwright Conor McPherson's dark comedy, "The Seafarer." The play was nominated for a 2008 Tony Award for Best Play. McPherson has written several well-received absorbing plays produced by ESP including "Shining City" and "The Weir."
"The Seafarer" is directed by ESP Artistic Director Angie Anderson. In an interview, Anderson spoke of her "great fondness for McPherson's naturalistic and lyrical language." She was especially taken by "the multi-layered characters. They are truly appealing people who express intimate personal feelings that the audience will become emotionally invested and root for them."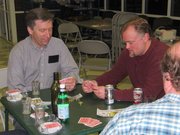 The play is set on a Christmas Eve in a coastal suburb near Dublin. The action centers on "Sharky," a heavy drinker trying to stay sober for the holidays. He has returned to live with his blind, heavy-drinking, aging brother Richard in a basement apartment. During the evening the brothers are joined by two old friends along with an unexpected guest, the mysterious Mr. Lockhart, a refined man, or at least one who appears so.
With wit even in its darker moments, the play culminates with what appears to be a harmless poker game, but there is much more at stake than money and pride.
A company of veteran actors fill the ESP cast for "The Seafarer." At a recent rehearsal they sat around a card table going over their lines, Irish brogues filling the air. As Sharky, Bill Fleming wants the audience to join his character's "journey from the depths and back up again into the joy of living life."
Scott Bailey as Richard calls the play one of "hope and the small pleasures in life; whether a glass of whiskey, a warm fire or good friendships." For Todd Huse, usually cast as "good guy characters" his role as Lockhart is a welcome change of pace. When Lockhart arrives he "brings a cold wind with him and much more."
In inviting audiences to the production, Mark Adams (Ivan) called "the play full of hope and redemption. It will bring a laugh, a scare and ultimately a smile."