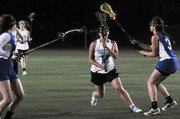 Arlington — Yorktown sophomore Kristen Somers snagged a loose ball and headed up the field with less than two minutes remaining in Monday's season opener against West Potomac. Somers made a move toward the goal and deposited the ball in the net, giving the Patriots their first lead in nearly 40 minutes and an advantage they would not relinquish.
Senior midfielder Jennie Basile led the way with four goals, but the Yorktown girls' lacrosse team showed on opening night that underclassmen will play a significant role if the Patriots are going to win an eighth consecutive National District title and make some noise at regionals.
Yorktown overcame a four-goal second-half deficit to pull out a 12-11 victory over West Potomac on Monday night at Greenbrier Stadium. Seven different Patriots scored at least one goal, four of whom were either a freshman or sophomore.
West Potomac jumped out to an early 3-0 advantage and held a 10-6 lead with less than 16 minutes remaining in the contest, but Yorktown battled back each time.
"We definitely had first-game jitters a little bit," Yorktown head coach Crystal (Morgan) Fraser said. "We had a lot of seniors graduate last year, so we're trying to fill holes in various positions and try to see what works."\
"[We] definitely [want to] eight-peat and to go beyond the first round of the regions. I think we have a very strong team this year — it's the strongest we've had in a while. We have a lot of depth and if we get all our girls back (from injury) … we're going to be a team to be reckoned with."

— Yorktown senior Jennie Basile
On this night, a balanced offensive attack helped Yorktown pull out a victory. Basile scored four goals and fellow seniors Meaghan Galvin and Tori Haling each had two. Somers, sophomore Margaret Doyle, and freshmen Sissy Davis and Kate Grattan each had one goal. Somers' goal was the game-winner with 1:25 remaining.
"I saw the opportunity and I just kind of weaved through it," Somers said. "I just went down and thought I should go to goal."
After trailing 10-6, Yorktown closed the game on a 6-1 run, including a Basile goal that tied the score at 11-all with 3:55 remaining.
"[Basile is] one of our captains, so she's definitely a leader on our team and everyone looks to her for good leadership on and off the field," Fraser said. "She's a good voice of our team. She helps out the younger girls and our returning players. She's an all-around great player."
What can Basile say to the younger players to prepare them for the season?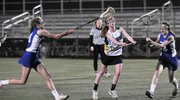 "Our region is very tough and not to let other teams get us down and that we are a contender is this region," Basile said. "It takes time to mold together, but once we get it, we will be a very successful team."
Galvin and senior Marianna Moore are also team captains. Each is battling an injury.
Yorktown has its sights set on capturing an eighth consecutive district title and winning games in the Northern Region tournament. The Patriots started the season by defeating a West Potomac team that ended Yorktown's 2012 season in the opening round of regionals.
"I have never forgot that game," Fraser said. "I've had it in my mind ever since we played and [the players] know about it, too. They knew that we had to come back and kind of redeem ourselves for that. … The first game I wanted to schedule was [West Potomac]."
Senior midfielder Karley Zdebski led West Potomac with three goals.
Yorktown will travel to face Centreville at 7:30 p.m. today and will open district play on Friday, March 15 at Mount Vernon.
"[We] definitely [want to] eight-peat and to go beyond the first round of the regions," Basile said. "I think we have a very strong team this year — it's the strongest we've had in a while. We have a lot of depth and if we get all our girls back (from injury) … we're going to be a team to be reckoned with."