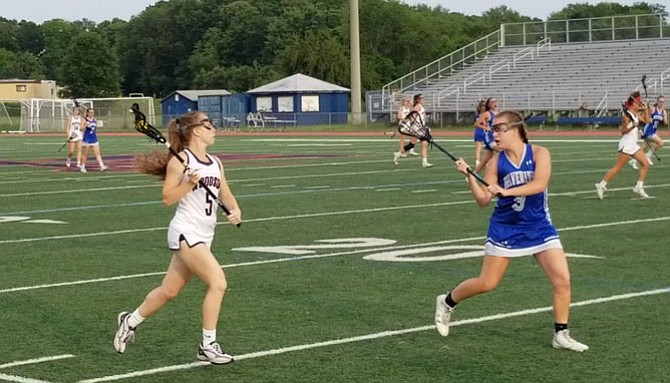 The West Potomac girls' lacrosse team will travel to face Langley at 6 p.m. on Friday in the quarterfinal round of the 6A state tournament.
The Wolverines secured a state berth and advanced to the Region 6C championship game by defeating three-time defending state champion Robinson 11-10 on May 25 in the region semifinals.
West Potomac head coach Cindy Lopez-Yusuf said the win over Robinson confirmed that the Wolverines, winners of the Gunston District title, can compete with top teams.
"I think that it kind of justified what we have already been feeling," Lopez-Yusuf said on Tuesday, "that we are…at the level of these other high-caliber teams and that we can play with them and we can actually compete. That's something I think is really important to the program in terms of continuing to grow…"
West Potomac finished runner-up in the region, losing to Woodson 26-9 in the Region 6C championship game on Tuesday at Woodson High School.
The Wolverines held early leads of 1-0 and 2-1 and trailed by just one late in the first half when Clare Madden's goal cut Woodson's lead to 8-7 with 3:10 remaining. The Cavaliers would pull away, however, scoring 18 of the game's final 20 goals.
Woodson closed the first half on a 5-0 run and led 13-7 at halftime.
What did the Wolverines take away from Tuesday's lopsided loss?
"I think every game is a learning opportunity," Lopez-Yusuf said. "I think that continuing to put (up) 100 percent effort despite adversity, that's what we can take away from this game. …The fact that we kept playing and [the starters] kept their heads up until I started subbing them out, I think that's a testament to their character."
Bella DeMaso led West Potomac with three goals and Madison Smith added two.
Logan Dougherty led Woodson with nine goals.
How do the Cavaliers rank against West Potomac's other opponents this season?
"They're definitely," Lopez-Yusuf said, "the strongest team that we've faced."
Next up for West Potomac is a state quarterfinal matchup with Langley, which lost to Madison 11-10 in the Region 6D championship game on Tuesday. The Wolverines and Saxons met during the regular season on April 7 and played to 13-all tie.