In celebration of the Youth Art Month at the Greater Reston Art Center (GRACE), students from Herndon, Oakton and South Lakes High Schools came together for an exhibition on Friday, March 15. The theme of the exhibition was Emerging Visions: Voices.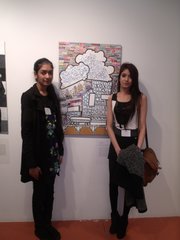 The theme was fleshed out in works like "Materialistic City," by Anum Kayani, a senior from South Lakes High School. In her words, "there is materialism in the world, everything has a label to it; from the clothes we wear to the shoes we bought, all are materialistic." Anum was inspired by her mother, Ghazala Sajid, who is also a painter.
Also exhibiting is Anum's sister Rida Kayani, an 11th grader also from South Lakes High School, who said, "I was working on the theme of children and their imagination. I wanted to depict what is inside their hearts."
Melissa Thomas, a junior from South Lakes, was experimenting with origami: "I discovered it meant happiness, long life, peace and fortune." Narrating the story behind her work titled "Avarice," Melissa said, "people believe that money makes you happy. But it is not the object that is valuable; it is the belief and concept that make it valuable."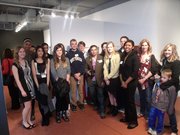 Like Anum and Rida Kayani, she has the support of her mother, Kathy Thomas, a graduate of the fine arts program at Virginia Commonwealth University, who has participated in the GRACE art program for 11 years.
For Alex Minor, a senior from Oakton High School, her work, titled "Society Unmasked," was inspired by one of her friends, whose parent got into a violent divorce and she didn't want people to know about it. She believes "people tend to hide things about them, because of fear." She conducted an anonymous online survey on Google asking people about their fears in order to complete her work.
Rebekah Soliday, a senior from Herndon High School, mirrored the society in her work, titled "Cut Here." She said, "I feel like people talk more about death and suicide than life; life is a hard choice."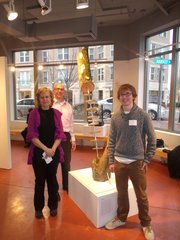 The duo of Yousef Ahmad and Dylan Staniszewski, seniors from Oakton High School, exhibited an untitled work depicting their emotions and the clash of cultures they encounter in their day-to-day activities.
Dwelling on the issue of the environment, McNeil Bauer, a senior from South Lakes High School, explained that his work is about "the interdependency of man and nature and how to achieve a balance between the two." Bauer used logs from trees cut down in front of his house and his knowledge of physics in his piece. "Environmental issues are important to me," Bauer said.
On the lighter side is the work of Chris Graham, an 11th grader from Oakton High School, titled "Rob." He said, "Rob was a student teacher who had a lot of impact on me; this is like a tribute to him."
An in-depth discussion with some of the participating students titled "Appetite for Art" was scheduled for Thursday, March 21, as part of the exhibition. See www.restonarts.org for more details.