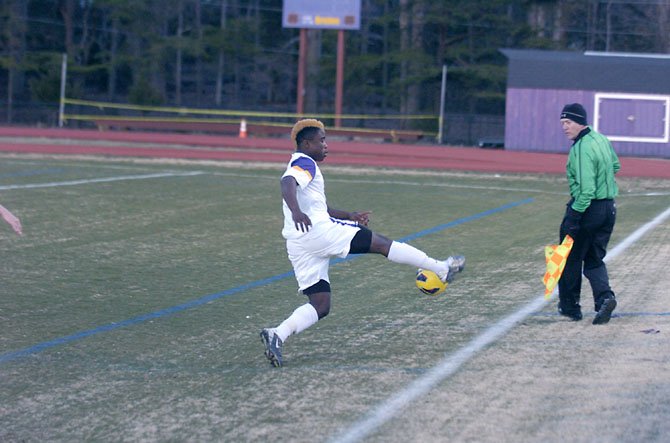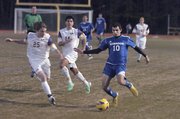 Burke — Robert Garza has brought a new style of soccer to the Robinson boys' program in his first season as head coach.
On March 22, the Rams brought a level of intensity that led to an early lead against Lake Braddock. The energy didn't last, however, and the Bruins walked away victorious from Garza's first taste of the rivalry match-up.
Trailing 1-0 in the first half, Lake Braddock responded with a game-tying goal in the 19th minute and added two in the second half for a 3-1 victory over Robinson at Lake Braddock Secondary School. In a rematch of last year's Northern Region championship game, won by Robinson, Lake Braddock received second-half goals from senior forward Ricardo Munoz and sophomore midfielder Jeff Pineda to pull out the victory.
"Anytime you play against Robinson, there's always going to be a certain amount of emotion in the game," Lake Braddock head coach Joe Soos said. "It's important to play with emotion but not get caught up in the emotion of the moment. I think we were a little guilty of that in the beginning."
Robinson took a 1-0 lead when senior forward Naveed Freshtvadi scored off a corner kick in the 12th minute. But things quickly went south for the Rams, whose lead evaporated nearly seven minutes later, when Lake Braddock senior forward Emmanuel Salido scored in the 19th minute.
"We showed some poise and that was good to see because it's early and you don't know how your team is going to respond in certain situations."

—Lake Braddock boys' soccer coach Joe Soos
Garza, who came to Robinson from Mount Vernon, said the Rams played well two days earlier during a 1-1 tie against Stone Bridge, showing they had adapted to his style of soccer, but he wasn't pleased with the team's performance against Lake Braddock.
"It was an amazing game," Garza said about the Rams' matchup with Stone Bridge. "I'm bringing a different style of game over here, a possession style with speed, and it was on display on Wednesday. To have [Stone Bridge head coach] Randy May, who's this next legendary coach, flat out say after the game 'we had a horseshoe hanging up for us today,' it was amazing to see the way [the Rams] adjusted to the new style. And then to come out here today and see this [is disappointing]. You could blame it on tired legs, but Lake Braddock played Wednesday as well.
"… I feel like after we got up with the first goal, we're all excited about it, and after that we just deflated ourselves, just completely sat back. I hate to say it, but I feel like we scored a goal and we felt like we won something there, yet there was another 70 minutes to play. We just stopped playing right there."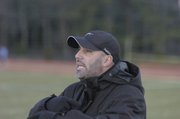 The score was tied 1-all at halftime. Lake Braddock's Munoz gave the Bruins the lead with a goal in the 54th minute. In the 67th minute, the Robinson goalkeeper mishandled the ball and Pineda cashed in with a goal, giving Lake Braddock a 3-1 advantage.
"We showed some poise and that was good to see because it's early and you don't know how your team is going to respond in certain situations," Soos said. "Going down a goal, to come back and respond and get one to even it up was certainly nice and showed some character."
The victory improved Lake Braddock's record to 2-0, including a season-opening 4-0 victory against Chantilly on March 20, but Soos wasn't content with the Bruins' effort, saying "it's nice to win in March, but you want to win in May."
"There were so many moments during the game that we looked sloppy and out of control," Soos said about the Bruins performance against Robinson. "We've got a lot to work on."
Lake Braddock finished Patriot District and Northern Region runners-up and reached the state semifinals in 2012. Senior forward Aaron Hollins said the Bruins would like to take home the final Patriot District championship before next season's VHSL re-alignment.
"That would be cool ending it off if we won our district," he said. "Losing [last season's district final to T.C. Williams], it doesn't put [us] down, it just motivates us."
The Bruins will travel to face Yorktown at 7 p.m. on Tuesday, April 2.
Robinson, last season's Northern Region champion, fell to 1-1-2. The Rams will host Woodson at 5:30 p.m. on Tuesday, April 2.
Garza said he is looking for big contributions from senior captains Andrew Osiecki and Evan Christian, and sophomore midfielder William Zarco.