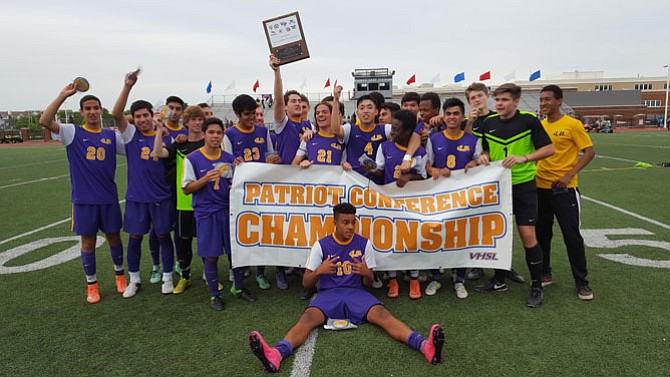 The Lake Braddock boys' soccer team twice held a two-goal lead during Friday's Conference 7 tournament championship game against T.C. Williams, only to find itself headed to overtime after a Titans goal in the closing minutes of regulation.
But rather than succumbing to the negative feelings of letting victory slip through their fingers, the Bruins instead traveled a championship path that merely took a little longer.
Late in the second five-minute overtime period, Lake Braddock midfielder Danny Cabrera headed the ball to forward Nico Quashie, who used his left foot to beat a trio of Titans with his second goal of the game and lift the Bruins to a 4-3 victory over T.C. Williams on May 20 in Alexandria.
It was Lake Braddock's first conference/district title since 2013.
"I just saw the ball in the air and as soon as the ball was in the air I just followed it," Quashie said. "... I just wanted it more than the other guy."
LAKE BRADDOCK head coach Joe Soos praised Quashie's ability to finish.
"He's a difficult player to deal with," Soos said. "He finds himself in good scoring chances and he's going to convert them."
Despite starting roughly 25 minutes after arriving on the field for a scheduled 4:30 p.m. kickoff, Lake Braddock jumped out to a 2-0 lead in the first half, thanks to goals by Ahmed Abdalla in the 14th minute and Quashie in the 24th. The Bruins took the two-goal advantage into halftime before a T.C. Williams corner kick in the 44th minute turned into a goal by Elvis Gomez, cutting the Lake Braddock lead in half.
The Bruins regained their two-goal cushion when Nico Ortiz DeZarate found the back of the net in the 54th minute, but the Titans weren't done.
Trailing 3-1, TC scored on a penalty kick by Kevin Nunez in the 60th minute before Reuben Bosompem netted the equalizer in the 78th minute.
Undeterred, Lake Braddock managed to pull out the win in overtime.
"We knew that there was going to be no quit in TC ­­­ they never quit," Soos said. "They're always a great opponent. ... If you're going to do it, and you want to test yourself, then having to do it against TC is a real accomplishment because of how tough they always play from beginning to end."
T.C. Williams head coach Peter Abed said he felt the Titans controlled the run of play for a good portion of the contest but Lake Braddock was able to capitalize on its opportunities.
"I thought the first two [Lake Braddock goals] were definitely against the run of play a little bit," Abed said. "I thought we really controlled the match for a while. We created a lot of chances. I thought we were in good position a lot of the time. That's what we told the guys at halftime is I know it's 2-0, but it's 2-0 because of two mistakes. I thought it was very evenly played, if not a little bit slanted our way. ... I thought we really had the run of play and just kind of got unlucky on three or four occasions and they really pounce on it. ... They're just really good at pouncing on any mistake, any loose ball, and they've got skilled players to finish it off. All the credit to them, for sure."
Lake Braddock entered the Conference 7 tournament as the No. 4 seed. After beating No. 5 South County 6-1 in the quarterfinals and earning a 6A North region tournament berth on May 16, the Bruins knocked off No. 1 seed West Potomac 4-2 in the semifinals on May 18. Lake Braddock then captured the championship and extended its win streak to nine games with a win over No. 2 T.C. Williams.
"It's been so fun," Quashie said. "We're so happy and that gives us more confidence coming into the next game."
Lake Braddock's next game arrived on Tuesday and the Bruins beat Robinson 4-0 in the opening round of the region tournament. The victory improved the Bruins' record to 14-3 and extended their win streak to 10 games.
Lake Braddock will host defending state champion Langley in the quarterfinals at 7 p.m. on Thursday, May 26.