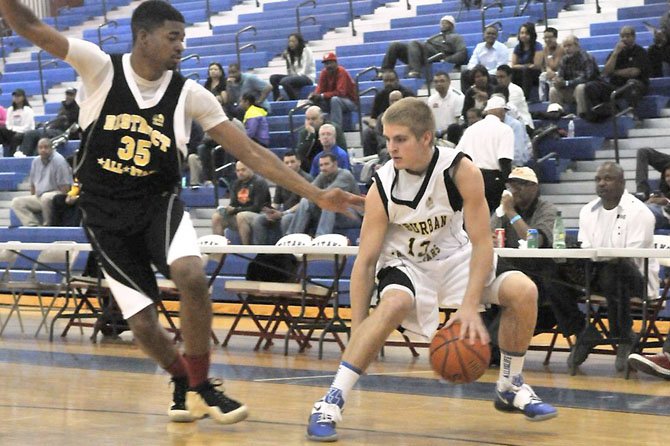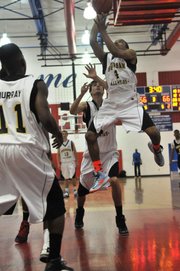 Alexandria — Being selected to compete in the 40th Annual Capital Classic was a testament to Khory Moore's talent as a basketball player. Still, the Wakefield senior wanted to leave his mark.
He wanted to stand out.
While all-star games can at times be marred by lackluster effort, Moore hustled around the court, looking to make a difference. He snatched rebounds. He leaped on defense to disrupt a pass. He even took a charge — an unusual sight during an exhibition game.
"I don't like to lose," Moore said. "When they were going on a run, I had to do something different than everybody else was. I had to stand out [in case] a college coach was here."
Sunday's Capital Classic consisted of two contests. The opener was an all-local matchup between the Suburban All-Stars and the District All-Stars. The main event matched some of the best players in the area (Capital All-Stars) against some of the top talent from around the country (United States All-Stars).
One of four athletes from the Northern Region competing for the Suburban All-Stars, Moore made his presence known during Sunday's opening contest. Moore led all Northern Region players with 12 points, including a pair of 3-pointers, but the Suburban All-Stars came up short against the District All-Stars, 118-88. Moore said participating in the event was a "great" experience, but it also served as a wake-up call.
"It made me realize that I'm not as good as I thought I was," Moore said about competing against the talented District team. "I've got to keep working every day in the gym and stay humble. That just humbled me a lot."
Moore led Wakefield to the 2013 National District championship. The Warriors finished Northern Region runner-up and advanced to the state semifinals. Moore said he is leaning toward attending Virginia Wesleyan College.
West Potomac point guard Brandon Pressley, Woodson forward Tommy Stepka and Fairfax guard Zack Burnett also played for the Suburban squad. The four Northern Region players came off the bench, entering the game together for the first time with 5:37 remaining in the first quarter.
Pressley finished with nine points.
"It was a really good experience," he said. "It opened my eyes up to the type of competition that I'm going to be seeing next year trying to play on the next level."
Pressley, who is listed at 5 feet 7, said practicing against Suburban teammates JJ Epps (5-7 Magruder guard) and Magic Harris (5-11 Oxon Hill guard) was unlike anything he faced in the Northern Region.
"Both of those guys are about my size, extremely quick, extremely athletic and I haven't seen anything like that in our region," Pressley said. "I'm always used to being the quickest guy. It really makes me see that I have to work more on my skill and not just depend on getting by guys [with] quickness."
Pressley said he is undecided on where he will play college basketball.
Stepka finished with four points.
"It's great to play in an all-star game because it shows how much you worked throughout your high school career," Stepka said. "It's not really about the game. It's just more what you did to get to the game."
Stepka helped Woodson overcome a 19-point fourth-quarter deficit to beat Wakefield in overtime in the Northern Region championship game on Feb. 23. After capturing the school's first outright region title, the Cavaliers beat Battlefield in the state quarterfinals before losing to eventual state champion Henrico in the semifinals.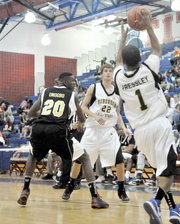 "Playing in the state semifinals, winning the region and playing in this all-star game," Stepka said, "I couldn't ask for a better senior year."
Stepka said he is undecided where he will attend college or if he will continue his basketball career.
Burnett finished with four points. He helped Fairfax advance to the 2013 Northern Region tournament.
In the main event, Herndon's Will Ferguson was the lone Northern Region representative to suit up for the Capital All-Stars, who lost to the United States All-Stars, 126-120. The Capital team was coached by Herndon head coach Gary Hall.
"It was good to play for him one last time," Ferguson said.
Ferguson, who said the opportunity to play in the game was a "blessing," finished with three points. He led Herndon to the 2013 Concorde District championship and will attend Massanutten Military Academy next season.
Bishop O'Connell's Junior Etou finished with 11 points for the Capital team. Etou helped O'Connell win the Washington Catholic Athletic Conference championship.