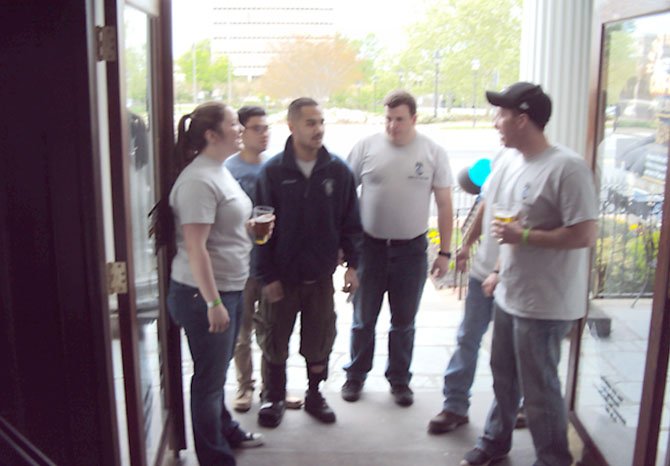 On Sunday, April 28, Officer Long Dinh arrived at the fundraiser hosted by the Fraternal Order of the Police (FOP) and was met with enthusiastic applause and praise. Dinh, who was heavily injured after a head-on collision on Thursday, Feb. 28, has undergone two months of rehabilitation so far. Sunday's fundraiser was an opportunity for his family, his friends and members of the local community to celebrate his recovery and to raise money to help fund his ongoing recuperation.
"I don't think I heard the word 'no.' People were happy to donate, especially after finding out the reasons why."
—Officer Mike Scanlon
The fundraiser took place at the Hard Times Café in Fairfax and was organized by members of the police department as well as leaders of the FOP. At the event, volunteer friends, family and fellow officers conducted a silent auction, and sold tee shirts and raffle tickets to be redeemed for buffet meals or for prizes donated by local and national organizations. The prizes included a Redskins' football helmet signed by Robert Griffin III and a BMW brand bicycle. Asked about the process of reaching out to various outlets, Officer Mike Scanlon, president of the FOP, said that businesses and organizations were very accommodating. "I don't think I heard the word 'no.' People were happy to donate especially after finding out the reasons why."
Photo Gallery
Supporting Injured Officer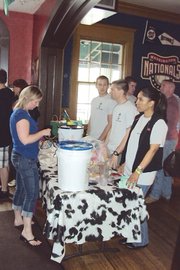 Click Photo for Flash
Scanlon said the funds are for more than just medical bills. He stated that Dinh helped support and was an earner for his family. "[The accident] had a direct impact on the entire family." According to Scanlon, the money raised will hopefully offset the debt accrued by the family, who consistently took time to visit Dinh in the hospital. "The fundraiser is to help Dinh and his family and to give them one less stress to worry about."
Beyond the fundraiser, friends, family and fellow officers have all found ways to help out. Officer Dinh's father, Long Dinh Sr., said that on one occasion after it had snowed, the family had come home from the hospital to find that their driveway had been cleared.
In two months, Dinh has exhibited a "miraculous recovery," as described by both his best friend Dale and legal representative Jack Burgess. Dale described a series of critical injuries including broken bones and fractures from Dinh's head to his legs. Officer Dinh himself noted the seriousness of the accident, stating that it was critical that he was wearing a seat belt at the time of the accident and that the public should always take precautions to be safe. Burgess noted that in over 30 years of representing men and women in the police and fire departments, Dinh's accident was of the most horrific that he had seen. He also used the word "miraculous" to describe the rehabilitation and said, "he's really made a wonderful recovery."
Asked about what the community could do to help, Officer Scanlon said that the community should continue to support the Dinh family, but also generally support men and women in public safety.