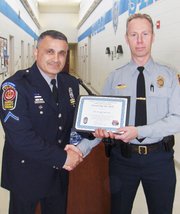 During last week's ceremony honoring the officers and citizens who helped out after a devastating crash on I-66, police Lt. Rich Morvillo, assistant commander of the Sully District Station, presented some sobering statistics.
In 2011, Fairfax County had 650 DUI-related crashes; in 2011, it had 670. And so far in 2013, there've been 118. So police have put particular focus on educating the public about the dangers and apprehending offenders.
"In 2013, the Sully District Station has already made 65 DUI arrests," said Morvillo. "And the county has made an astounding 634 DUI-related arrests."
Station Commander Ed O'Carroll said he has some 110 officers to cover 70 square miles, so tips from citizens regarding impaired drivers are welcome. He also acknowledged the brave and heroic efforts of the people who came to the aid of PFC Rockie Akhavan after he was involved in a "horrific crash" on March 11.
Thanking the citizens and state troopers for all they did, O'Carroll said, "Fairfax County has an aggressive campaign to take drunk and impaired drivers off the roads. But we need the citizens' help. The efforts that night started with the call to the state police [about an erratic driver on I-66]."
"We're appreciative of Rockie's traffic-enforcement efforts," he continued. "This crash is a testament to the dangers police officers inherently face. But we're resolute in our continued efforts to remove impaired drivers from our community's roadways, and our efforts have only just begun. We have zero tolerance for drunk drivers."
Calling Akhavan "a shining star here at Sully," O'Carroll said he's now rededicated to apprehending anyone driving under the influence of drugs and alcohol.
Also speaking was Supervisor Michael R. Frey (R-Sully). "I appreciate the chance to say thank you to Officer Akhavan," he said. "He's representative of all the officers here — they care about the community and do all they can to keep it safe. And the support for the Police Department and the officers from the community had just been tremendous."
Turning toward Akhavan, Frey said, "Rockie, thank you from the bottom of my heart for all you do and will continue to do."
To the citizens who came to Akhavan's aid on March 11, Frey said public safety is a team effort. "It's the easiest thing in the world to dial 911 and go past something," he said. "But to see something and stop shows what a wonderful community we have. Thank you for taking your time to do that."