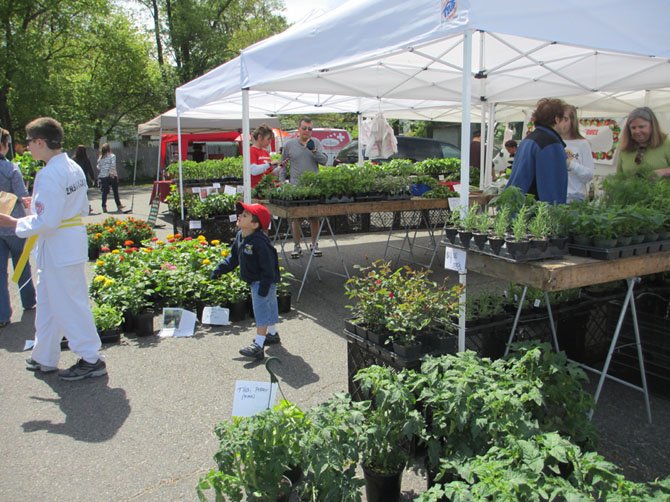 Opening day of the Vienna Farmers Market—in its new home on Center Street—looked as much like a spring fair as it did farmers' market. May 4 was sunny and warm and shoppers turned out by the dozens and dozens to enjoy the initial rites of spring, from baseball at Waters Field to the food and fun at the farmers market.
Operated and sponsored by the Optimists Club of Greater Vienna, the farmers market found a welcome on the grounds of Faith Baptist Church, across the street from Waters Field and caddy-corner from the firehouse.
On opening day, 20 vendors sold fresh produce, plants, pork and beef from pasture-raised pigs and cows, and a diversity of prepared foods, from Mama's Donuts—a market favorite—to exotic organic mushrooms. Beginning May 11, six additional vendors will be on-site, including freshly ground coffee and gourmet tea from Vienna community coffeehouse Caffe Amouri and fresh dairy products from Everona Dairy.

The children had the opportunity to jump in the bounce house, have their face painted or enjoy free popcorn, all compliments of Faith Baptist Church. The market's popular balloon-man designed creatures and things for children, too.
Grown-ups toted bags of produce or carried pots of herbs and jars of honey. A lot of people bought honey. The Vienna Farmers Market is a producer-only market and one of its attributes is the opportunity for customers to speak directly with the farmer or producer.
"I like to support local businesses and I always come to the Vienna farmers market," said Kay Goss, owner of Star Beads of Vienna, holding bags of produce and plants. "I bought everything. What didn't I buy?"
IN WINTER OF 2013, the Optimists were advised by the owners of the caboose parking lot that the market had to move and find a new location. Shannon Matthews, community outreach director of Faith Baptist Church and wife to church pastor David Matthews, was quick to offer the church's parking lots and green space to the Optimists for the market that runs through the end of October. The church went a step farther by providing fun opportunities for children at the market.
"We were especially grateful for the warm welcome on Saturday by the Faith Baptist Church of Vienna who made us feel quite at home," said market master Sarah Jane Brady.
EARLY SPRING PRODUCE included salad greens, asparagus, mushrooms and beets. Beets sold for about $3 a bunch, asparagus for $5 a bunch, honey for about $6 for a 12-ounce jar, and potted herbs for $3.50 each. Hot-selling kale sold for about $2.99 a pound. Meat, from pasture-raised stock, sold at prices competitive to Whole Foods.
Prepared-food vendors sold sweets, freshly made beverages, international food and barbecued meats.
The Vienna Farmers Market is open every Saturday, from 8 a.m. to noon. The complete list of 2013 Vienna Farmers Market vendors and a tentative schedule of activities is at http://viennafarmersmarket.org/.