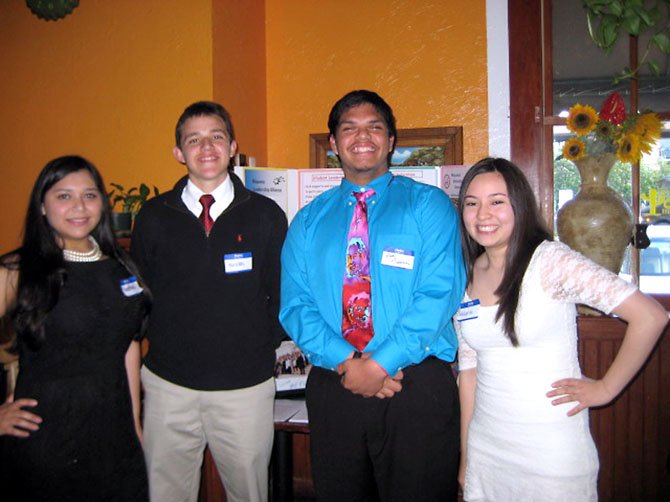 Every year, The Hispanic Leadership Alliance (HLA), a non-profit organization based in Northern Virginia, gives out scholarships to Latino high school students for post-secondary education. The alliance identifies itself as "a group of area residents committed to helping its students achieve their highest academic potential." This year, on Monday, May 13, at the eighth annual awards banquet, eight students received scholarships. The banquet was hosted at El Tío Tex-Mex Grill in Falls Church. Families, friends, teachers, counselors, administrators, school board members and the leadership team for HLA were in attendance to show their support for the recipients. The students have plans to further their education, and have thought about possible courses of study for college.
ONE STUDENT, Melanie Aguilar-Rojas from Oakton High School, will be attending William and Mary College in Williamsburg this fall. She plans to study international relations with a future goal of working for the state department. Rojas, like the rest of the award recipients, will represent the first generation of her family to attend college. When asked about this she said, "I'm very excited, and my family is counting on me."
Nicolas Polo Sánchez of West Springfield High School, another recipient of the HLA scholarship, also plans on studying international relations. He will attend Northern Virginia Community College, with intentions of transferring to James Madison University in Harrisonburg. The first of his family to attend college, he stresses, "If you try hard and have the right people pushing you, you can do amazing things." Sánchez mentioned how people like the Spanish parent liaison of West Springfield High School helped him. He has been an officer for the Spanish Honors Society, and a member of the Hispanic Heritage Club for four years. These students are all well rounded and have kept busy with obligations outside of academics.
Ana Gloribel Pereira Mejia of Lake Braddock Secondary School says she worked 30 hours a week at a local restaurant throughout high school, in addition to her course work. At age 12 she came to America and had to learn English. This was a challenge she faced, but with the help of teachers like Patricia Rice, her high school English teacher, she has been able to catch up to other students and achieve so much in her four years at Lake Braddock.
Juan Guevara of Herndon High School also had to learn English, and remembers at a young age how he learned by listening to other students in places like the playground. He will attend Longwood University and pursue a double major in art and education. He expressed appreciation for the support and inspiration he received from his teachers in high school. Guevara, just like the other recipients, has had to overcome challenges in his life, but these have not stopped him from being the first of his family to attend college.
THE RECIPIENTS have advice for Latino students who wish to attend college and possibly represent the first generation of their family. Nicolas Polo Sánchez tells children, "Keep working hard, and don't let people tell you what you can and can't do." Ana Gloribel Pereira stressed that "If you keep your grades up and volunteer, these will open up opportunities for you." Juan Guevara added his short and sweet advice by urging youth to "work hard and not slack." These students have worked hard to achieve "firsts" for their families in America. Melanie Aguilar says, "I'm really thankful there are organizations like the HLA that support Latino high school students."