Photo Gallery
People Express Appreciation for Art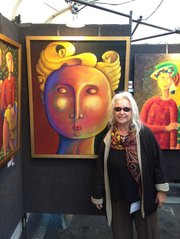 What Did You Like Most About The Fine Arts Festival?
Click Photo for Flash
Reston — Greg Sawyer of Herndon describes himself as an art fan, but says he's a "little intimidated" by it. Still, having recently moved from Texas and living without roommates for the first time in his life, he has an apartment to decorate. That brought him to the Northern Virginia Fine Arts Festival at Reston Town Center last weekend. 
"There's a lot of bare, white walls to fill, and I have no idea about how to make them go together, how to make the place look cohesive, what sort of art blends well, and what doesn't," he said. "I came here because I figured the artists themselves could help me figure that out, because who has a better sense of aesthetics than an artist?" 
Sawyer spent his time at the festival browsing photographs and paintings, only two kinds of art. Hosted by the Greater Reston Arts Center, the festival featured more than 200 artists working in almost every medium imaginable. 
Darren Starr of Falls Church said he came to the festival just to browse, but ended up finding a perfect complement to his basement. 
"I have a few old arcade games in my basement and it's hard to find functional furniture to go down there," he said. "But then I came across Woody Jones, a wood artist that uses things like old pinball machines and foosball tables to make furniture. I couldn't imagine a more perfect complement to what I've got." 
In addition to furniture, clothing, handbags and leather accessories were some of the more functional art present. Children create art based on templates from around the world at the Children's Art Tent at the Northern Virginia Fine Arts Festival Sunday, May 19. 
"My favorite part of the festival was just the sheer variety of art on display, said Ana Moore of Reston. "I really enjoy more abstract paintings, my husband likes things like photos of Italian coastlines and my sister and brother-in-law really like sculpture. And we all found something to look at and enjoy here." 
Another signature feature of the festival was the children's art tent. Located at the Reston Towne Square Park in the western part of Reston Town Center, it featured an exploration of art forms from around the world. 
Children participated in making Mehndi art gloves from India, Chinese brush paintings, African masks, Native American totem poles and Hindu Mandalas. 
"I thought the Chinese brush painting was the most fun, but I really liked learned about all those art forms," said Ashley Crandell, 13, of Reston. "In school we learned about a lot of art from Europe, but this was something totally different, and was a lot more fun to create than just a painting."