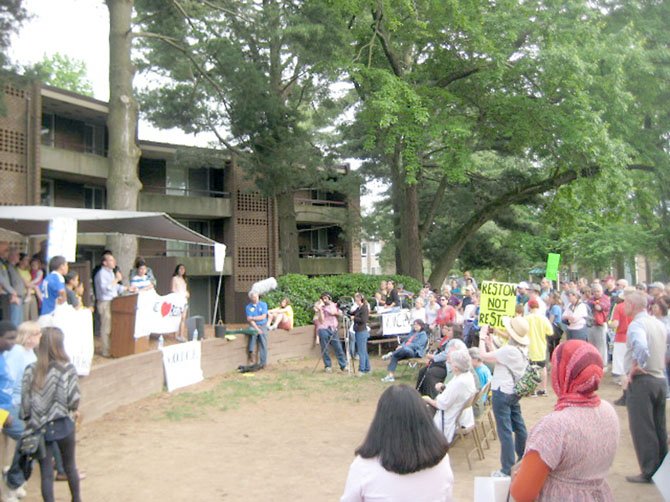 Photo Gallery
Viewpoints: Residents Express Concerns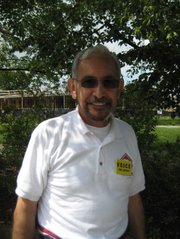 Click Photo for Flash
On Sunday, May 19, V.O.I.C.E (Virginians Organized for Interfaith Community Engagement) walked with many residents of Reston, and tenants of Crescent Apartments to raise awareness of affordable housing in Reston and more specifically—plans to redevelop the Crescent Apartments on North Shore Drive from 181 units to much larger 700-900 units. These would be privately developed. The issue that V.O.I.C.E and those who participated in the walk on Sunday are addressing is that many of the current residents would be displaced due to the expensive rent of the new apartments. This could force 80 percent of the residents out of the apartments, and possibly out of Reston.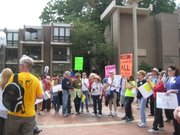 The walk began in the parking lot behind Coldwell Banker on Temporary Road, continued to Lake Anne Elementary School, stopped at the Robert E. Simon statue in Lake Anne Plaza, and ended in the center of Crescent Apartments. At the different stops along the way, residents and members of V.O.I.C.E. gave short speeches to tell their stories. Some of those who spoke were current residents as well as former residents. One concern that most residents had in common was the education their children are receiving while living in Reston. Not only would residents have to possibly find new jobs, their children would lose the opportunity they have had to learn in the Fairfax County School System.
Because the metro is expanding, and the Silver Line will run directly through Reston, Fairfax County sees an opportunity to offer more housing in the area. Rabbi Michael Holzman stated in his speech on Sunday, "Reston is growing, and people are moving here. There will be no Reston for all of us if diversity is gone." The Crescent apartments are one of the places Reston sees its diversity growing.
In addition to V.O.I.C.E.S., the residents of Crescent, and other members of the Reston community who showed up for the walk on Sunday, Robert E. Simon sent a letter to be read at the Lake Anne Plaza stop. In this letter, Simon expresses his support to maintain affordable housing in Reston. He says, "The need for affordable housing is critical, not only for those who currently reside in the apartments but also to insure the economic diversity of our neighborhood." He went on to explain that, "This was one of the original objectives in the development of Reston, and we need to see that it continues."
Part of the history of Reston is that it was founded on three ideas: "People should be able to live near the place where they work if they want to; housing should be available for all people of all income groups if they wish to live and work in the same community; and diverse cultural, religious, educational and recreational facilities should be an integral part of the community from the beginning."