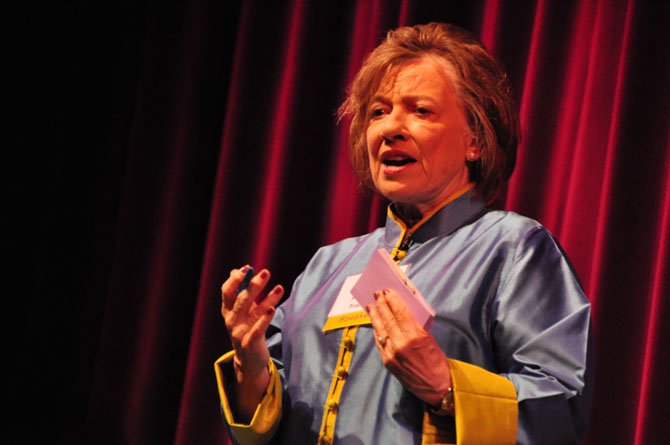 Reston — The Reston Community Center hosted author and speaker Abigail Trafford Wednesday, May 22, as the keynote speaker for their "Celebrate Your Bonus Years" event. Trafford, author of two books, including "My Time: Making the Most of the Bonus Decades After Fifty," spoke to the audience about how increased technology and knowledge have led to increased life spans, meaning people often live for decades after middle age.
"Conventional adulthood is often about 'their time,' with bosses, children, but when does 'my time' come?" she said. "'My time' comes when we've completed this adult tasks, we have raised our children, fleshed out our resume, established ourselves in the community, made our marriages, sometimes unmade our marriages. Then we come into this new stage."
She likened it as a similar stage as adolescence, a time of great transition.
"We have some things in common with the transition of adolescence. We have identity issues. Adolescents don't know who they are. But really, if we're no longer a department manager, or a soccer mom…" she said. "We also have intimacy issues. Teenagers always want to know who their friends are, who's with them. And 'my time' is all about who is with us. Who do we love?"
Trafford said one of the keys to enjoying the time was finding pleasurable activities. She recalled a woman she knew that gave up tennis at a young age because she wasn't any good, only to pick it up decades later.
The event also featured a panel discussion between the audience and several local residents who shared their experiences.
"We felt that if we just give this program with this nationally acclaimed expert, we're not getting down to the street level, we're not finding what we can do in Reston," said Steve Gurney, founder of a retirement guide and moderator of the discussion.
Ginny Johnson, of Reston, said that she has found many ways to enjoy her retirement.
"I love the title of this event, because the last 13 years of my retirement have been exciting and adventuresome," she said. "I just returned from my second trip to Haiti, where our church, among many others, sponsors students in a small village on the north central plateau."
Kathleen Elder, one of the speakers, was diagnosed with multiple sclerosis several years ago, and was involved in a car accident that left her unable to walk.
"This community center provides a second home for me. I have to do exercises for my multiple sclerosis, I can't go to the gym, but the center has a pool, which allows me to do my exercises in the water," she said. "I'm here every other day, and the staff is very helpful, and I'm able to do my exercises in the pool thanks to their help."