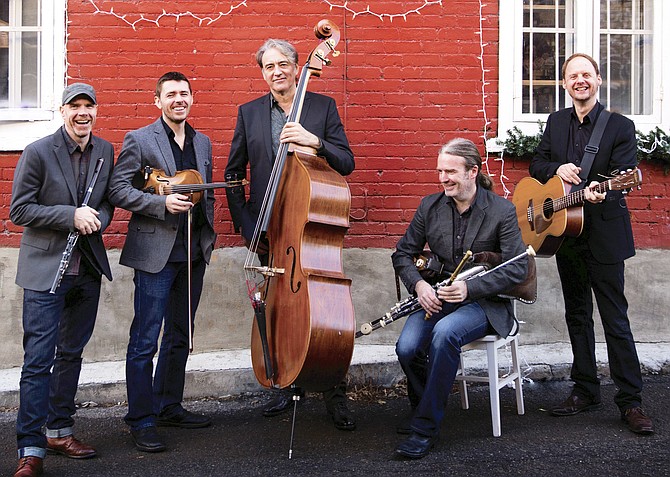 With so much stress due to the ongoing COVID pandemic, CenterStage is "providing arts to help us navigate the uncertainty, and in a manner that patrons can be confident about their health and safety," said Leila Gordon, executive director, Reston Community Center. "The arts can help us heal."
For the upcoming Holiday season, CenterStage will have the Irish musical group Lúnasa performing "A Celtic Holiday." The group was formed in 1997 and tours and performs internationally.
"Reston holds a special place in the hearts of Lúnasa as it's a gig we've been doing annually since the early 2000s," said Cillian Vallely of Lúnasa. "We're very happy that we won't have let 2020 go by without getting a visit."
"Over the years, we've gotten to know both the audience and the fantastic staff at the center and while we're really looking forward to playing, we're also looking forward to meeting all our friends there," added Vallely. The group is named for an ancient Celtic harvest festival in honor of the Irish god Lugh, the patron of the arts.
For "Celtic Holiday," audiences can expect an intimate performance of Irish traditional songs and instrumentals, mixed with stories and chat about the music. "We have a great guest singer this year, Dave Curley from County Galway, and his voice and playing will be a nice bonus for the audience," noted Vallely.
Asked about live performance at CenterStage during these current times, Vallely said, "Reston Community Center is going to great lengths to ensure the safety of both the staff and audience and we believe there's nothing to fear in coming out to this concert." He added the patrons "will definitely have a good time; live concerts are very rare at the minute and for the foreseeable future, and it also will be a nice opportunity to escape the nonstop doom and gloom."
Vallely went on to say, "Almost everything in the music business has shut down since mid-March, so the only thing we've been doing as a group is virtual online concerts. Individually, some of us have been doing local gigs in bars and restaurants and teaching online, but the theatre touring circuit has essentially been cancelled worldwide for 2020. We had trips to 10 different countries cancelled. That's what makes our Reston concert so special, as it will be the only concert since the pandemic hit."
Where and When
Reston Community Center presents the musical group Lúnasa: "A Celtic Holiday" at CenterStage, Hunters Woods Village Center. 2310 Colts Neck Rd, Reston. Performance Thursday, Dec. 17, 2020 at 8 p.m. Tickets: $25 Reston/$50 Non-Reston. Tickets call 703-476-4500 or visit restoncommunitycenter.com. Note: For the health and safety actions taken by Reston Community Center, including seating limitations, go to: http://www.restoncommunitycenter.com/.