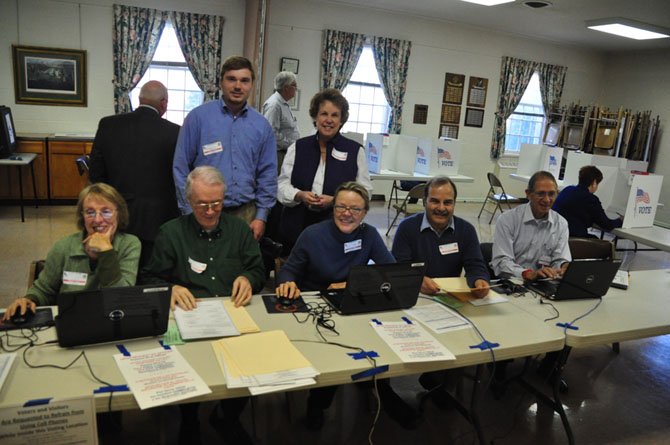 Great Falls — Great Falls residents exercised their right to vote on Tuesday, Nov. 5, heading to the polls to decide on a new governor, lieutenant governor, attorney general, state delegate, sheriff and on a school bond. While the turnout wasn't expected to bring the numbers of last year's presidential elections, many in the community came out to vote at one of four locations.
"Obviously the presidential race last year is big for our country, but an off year like this is still very important to the community," said Thomas Smith of Great Falls. "Our governor is going to be essential to crafting statewide policy, and our delegate is someone we're going to see around our community for the next two years, so it's very important on a local level."
The Great Falls Library, which is the location for the Hickory precinct, reported a problem with their optical scanner, which records paper votes, but otherwise the process seemed to run smoothly.
The race for the 34th delegate seat, with Republican incumbent Barbara Comstock facing off against Democratic challenger Kathleen Murphy, was the race that got the most attention because of the direct local ties.
"While I don't agree with everything Barbara Comstock has voted for, there are certainly worse things than voting with the rest of her party," said Bill McGinley of Great Falls. "Specifically, a lack of knowledge about some of the major issues in the state and region, which I think Kathleen Murphy has demonstrated. I came to hopefully help Barbara lead us for the next two years, through the Route 7 widening, through the coming of Metro with the hopes that she'll be standing up for us in Great Falls during these changes."
Murphy's supporters were also out in force, hoping to usher in a new era that supporters feel will give more emphasis on keeping the government out of their personal lives.
"Our freedom begins with ourselves as individuals, and I will never support someone who believes it's their prerogative to tell people, particularly women, what kinds of health care and reproductive choices they should be making," said Rebecca Smiley. "And as much as I hate to go fully partisan, this is one time when it's needed, because I think Republicans are too comfortable making those kinds of decisions on behalf of too many other people. Hopefully we'll see a change, starting tonight, with Kathleen Murphy."
In the end, Comstock was re-elected by a narrow margin, defeating Murphy by 431 votes, with 29,479 total votes cast.
A few people were interested in the Sheriff's race as well, despite it not receiving the level of attention as some of the other races.
"The sheriff's race is important to me because as the police force that runs our jail, our votes will have a direct impact on how criminals are treated in this county, which is a reflection on the county as a whole," said Trish Martin of Great Falls. "With no incumbent in the position, it's a way for the county to speak out on which direction we'd like to go."