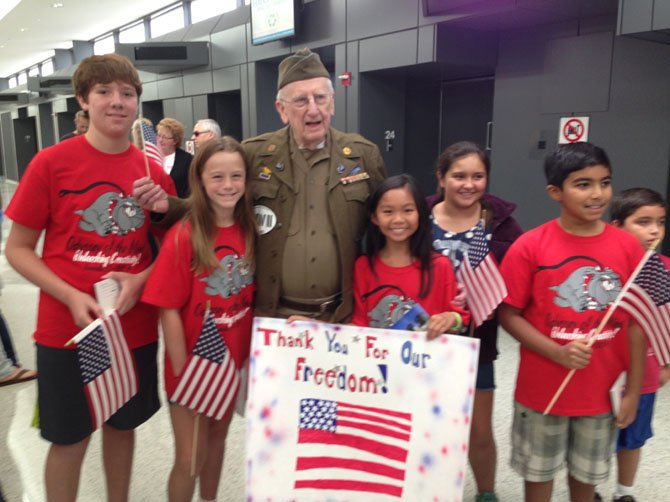 Last May a flame was lit for a very special undertaking when the students at Forestville Elementary attended a showing of "Honor Flight," a documentary based on the lives of four WWII Wisconsin veterans and their trip to see the memorial built in their honor. Their fifth grade teacher Lisa Goglio-Zarczynski hosted the event at the AMC Tysons Corner Theater to raise awareness of the arrival of these flights into nearby Dulles.
Their initial goal was to raise $500 to send one veteran, however through snow cone sales at school events and youth sport camps along with an online donation site http://www.gofundme.com/33ltco they have raised $1,500 for three veterans and hope to raise enough money for a fourth.
On Saturday, Sept. 21, the team had spread the word to other youth organizations, middle and high schools in the area to come together to greet Stars & Stripes Honor Flight with 112 veterans from Wisconsin. Thanks to their efforts and the additional 85 people, it was announced that this was the largest welcome since flight arrivals began in 2008.
Postcards with the WWII Memorial were personalized with sentiments of thanks and appreciation by the team and their sixth grade classmates. These were distributed to each veteran upon their arrival deeply touching the recipients.
The team will continue to fundraise along with spreading the word about the Welcome to Washington in hopes of matching or exceeding their recent attendance at Dulles.
Forestville PTA President Jamie Finch is requesting for postcards to be made available to the students during their annual Thanksgiving luncheon for writing messages to the veterans. These will be distributed in the spring when Honor Flights will resume their travel. The team will also begin offering DVD's of "Honor Flight the Movie" for donations. All donations will go towards the Stars and Stripes Honor Flight fundraising goal of sending a fourth WWII veteran on an Honor Flight. Anyone that would like to make a donation for a DVD, can email deannakeys@yahoo.com.