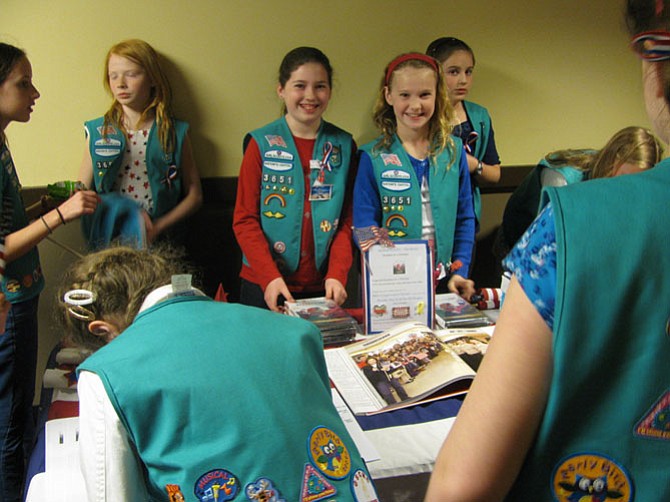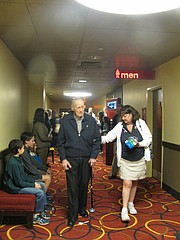 Girl Scout Troop 3651 organized a screening of the movie Honor Flight, and invited two World War II veterans, Howard Jester and George Hanna, to speak to the audience after the film. Forestville Elementary teacher Lisa Goglio-Zarczynski also spoke and was featured in the film for volunteering to help veterans get to Washington D.C. to see their monuments.
At the movie screening, the girl scouts announced that Bob Nelson of Keller Williams, who runs the military appreciation fundraiser dinners at the Old Brogue in Great Falls, will host a fundraiser dinner on Monday, May 11 for their efforts, according to Karen Joostema, troop leader. "Our girls will give a presentation on what Honor Flight is about and our involvement in it," she said.
The girl scout troop raised more than $5,000 by showing the film, which will go to flying veterans to Washington, D.C. They hope to raise enough to fly 10 veterans later this spring, and the girls plan to greet veterans who arrive in Washington and visit the monuments with them.
"Guests simply call The Brogue for reservations on May 11 for either the 5:30 seating or 7:30 seating of the Military Appreciation Dinner," according to Joostema.
"It's very important that the veterans who served in World War II will be remembered," said Caroline Healy, 11.
The 12 scouts from Colvin Run Elementary School first worked with the Honor Flight organization two years ago as Brownies, when they greeted an Honor Flight of veterans at Dulles Airport who were here to visit the memorials, according to Karen Joostema.
"We got to shake hands and hug them and sing songs to them," said Kyra Joostema, 11. "We sang 'America the Beautiful,' 'You're a Grand Old Flag,' and 'God Bless America.' They seemed very happy."
When it was time for the girls to decide on a community project this year, the girls wanted to get more veterans to Washington and decided to set up their own community viewing of "Honor Flight."
"We want people to have a chance to see it and understand what happened and to understand that people around us did a good thing," said Caroline.