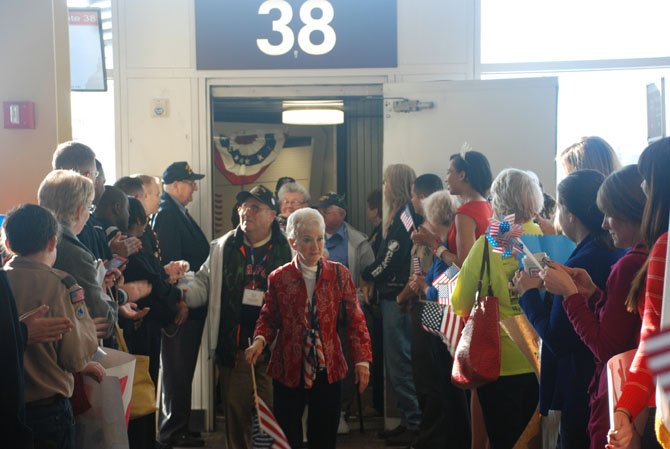 Jenny Ebert was born in Belgium in 1930, and experienced the German army invading her homeland as a teenager. On Saturday morning, Nov. 2, Ebert was at the US Airways terminal of Reagan National Airport helping members of the City of Fairfax Main Street Band and nearly 300 onlookers welcome two planes' worth of American WWII veterans.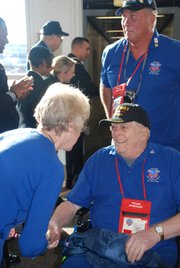 Ebert's husband Paul plays French horn in the band, which performs four times a year as part of the Honor Flight Tour program that flies veterans from around the United States to visit memorials in Washington, DC, for the day.
"She has such patriotic feelings for America," said Main Street Band director Geoffrey Seffens. Jenny has been present, thanking each disembarking veteran personally, at every Honor Flight performance of the band going back four years. She understands what the servicemen saw and did because she was there.
THE BAND PLAYED a mixture of military service songs, patriotic medleys and popular hits from the WWII era, including "The White Cliffs of Dover," "It's Been a Long, Long Time" and "Don't Sit Under the Apple Tree." "They come off the plane and they have hard time walking," Seffens said of the veterans. "But when they hear the music, they see people from the terminal that have gathered, they just lighten up. One of them did a jig."
The Honor Flight program flies in vets via a handful of commercial airlines as many as five days a week, though US Airways is the only one with live entertainment. Performances from various types of ensembles celebrate vets' arrival in the morning and departure at night.
According to Greg Locher, US Airways customer service agent and Honor Flight welcome coordinator for US Airways at Reagan, the airline became involved with the program in 2006, but didn't begin celebrating with live music until two years later.
The US Airways Honor Flight team had just been using a boom box to play music from the 1940s. One day, even the boom box moved one supportive traveler to tears. "She missed her flight," Locher said. "Then she came over and said, 'Listen, I'm with the National Symphony Orchestra. How would you like it if I could get some live music going so you don't have to use the boom box?'" The woman, Janet Brown, and husband Mike Brewer helped bring in quartets and quintets to play instead, and by word of mouth the Honor Flight gig became highly sought after.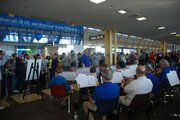 THE MAIN STREET BAND became involved four years ago, shortly after the group's inception. They were looking for opportunities to develop an identity for the group that would make it unique from its well-established older sibling City of Fairfax Band.
"It did help us," Seffens said. "It gave us a sense of doing something special, unique -- something that mattered. Now, we've been around for a while, we've established our niche." Performances are now open to any City of Fairfax Band Association members, though the Honor Flight group still mainly comprises Main Street Band members, and occasionally their spouses or children, such as trombonists Ed and Thomas Fleming of Leesburg.
Locher said the band has become a crowd favorite, which led the US Airways team to invite them for the 300th Honor Flight into DC. Last Saturday, they were as impressive as ever. "The crowd was just cheering, clapping," Locher said. "The vets started crying, then it's just a roller coaster. The crowd started crying. Everyone's happy but they're still crying."
"In a time when our country seems to be torn by partisan politics," Seffens said, "sometimes there seems to be a disillusionment. But when this happens, when you see the patriotism, you take great pride in knowing what these people did on behalf of freedom. It rejuvenates the spirit."
"We're doing something right," Locher added.