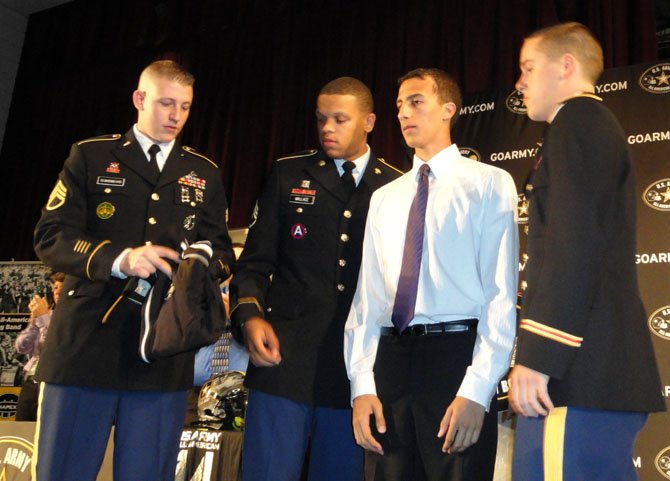 Not only is Gabe Luebbe a talented and accomplished musician, but he's now been named a member of the U.S. Army All-American Marching Band. The Chantilly High senior received his formal invitation to the band during an Oct. 17 ceremony at the school in front of family, friends and his Charger band mates and directors.
"I was extremely excited when I found out," he said. "I auditioned on both the trombone and baritone and received an e-mail saying I wasn't accepted on trombone, so I was disappointed. Ten minutes later, I got an e-mail saying I was accepted on baritone."
More than 1,300 students applied, and Luebbe was one of 125 nationwide who were selected. Criteria included musical talent, marching ability, academic achievement, personal character, community service and leadership skills. This honor means they'll perform at halftime of the U.S. Army All-American Bowl football game, Jan. 4, in San Antonio, Tex.
Before Luebbe could apply, though, his band director had to nominate him. He also had to send a video in which he spoke about himself, another showing him marching and playing in the band and another demonstrating his playing skill. Letters of recommendation were needed, as well. All these things happened during the spring, and he learned of his selection in August.
"It's a great testament to the type person Gabe is," said Chantilly Band Director Doug Maloney. "He's a talented musician and an even better person, and he's going to be a fantastic representative of Chantilly High at this event."
The Army will pay for Luebbe's hotel and air fare to and from the game. At the ceremony at his school, he received a "U.S. Army Strong" cap and Chantilly received a plaque engraved with his name.
During his sophomore and junior years, he was the baritone section leader in Chantilly's marching band and was the featured soloist, his junior year. He also made the All-State Symphonic Band twice and the All-Virginia Jazz Ensemble three times.In addition, Luebbe was selected to the National Association for Music Education All-National Orchestra in 2012 and the National Jazz Workshop Invitational. He's also a member of the National Honor Society and help found Chantilly's Environmental Action Team.
He plays trombone in the symphonic and jazz bands, but baritone in the marching band. "When my dad was a kid, he played the trombone; so around fifth grade, I decided to play it, too," said Luebbe. "But in my freshman year, to march, I picked baritone, the next thing to a trombone."
He said baritones provide much of the band's "bottom sound," and it's the job of Chantilly's 11-person baritone section "to help support the rest of the band's sound — we make sure they can rely on us."
After his school's drum major made the Army's All-American Marching Band two years ago, Luebbe began following that band on Facebook and You Tube. "This spring, I auditioned," he said. "I knew there'd be hundreds of other applicants just as qualified as me." So he hoped his videos would turn the tide in his favor.
"In the self-introduction, I told who I was, why I deserved to be an All-American and how dedicated I am to music," SAID Luebbe. "I told them I over-prepare. The baritone is heavy, so holding it can be really tiring. So during practice, I strap ankle weights around the baritone and march with it. Then during performances, when I take them off, it's much lighter."
He also said he'd been a section leader two years and a drill instructor one year. And he told them "one of my main goals is to make sure everyone — not just me — knows their drill spots and music," said Luebbe. "So I work with them on this outside of practice."
Luebbe's parents, Paul and Zet, were at the Oct. 17 ceremony, as was his sister, Beka, a Rocky Run seventh-grader. "I'm extremely proud of him," said his dad. "Without question, marching band is his most-passionate, high-school activity. So to have it culminate with this national recognition is just huge."
But that's not all, said his mom. "He's a very good kid, is determined and works hard and has a lot going for him. He's also kind, loving and giving."
Army Staff Sgt. Jeffery Wallace officially invited Luebbe to be in the All-American band and called the U.S. Army All-American Bowl "the nation's premier, high-school sporting event." He said the band members are "dedicated, motivated and know how to be part of a team, as well as leaders. We are proud of have Gabe in the band."
Taking the podium in the school auditorium, Luebbe then thanked his family for "always supporting" him. He also thanked the band directors, plus the entire Chantilly marching band, saying, "I wouldn't be here if it wasn't for you guys, always being there for me."
Assistant Band Director Chris Singleton thanked the Army for recognizing band students, plus Chantilly's band and administration. "It's been great to see Gabe's growth, over the past three years," he said. "He's emerged as a leader in the band and helps and encourages everyone around him to always do their best. Congratulations, Gabe."
Luebbe leaves for Texas on Dec. 30 and says it'll be challenging learning a whole, new marching routine in just a week's time. "It'll require a lot of self-dedication and I'll have to push myself," he said. "But I'm looking forward to meeting and working with new people from all around the country."