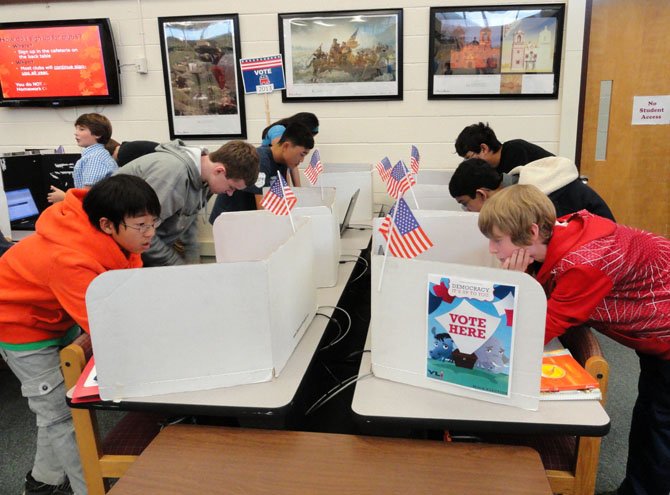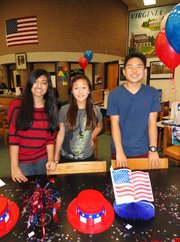 Students at Rocky Run Middle School aren't old enough to vote, but that doesn't mean they didn't have opinions about Virginia's election. And the eighth-graders even participated last Thursday-Friday, Oct. 31-Nov. 1, in a mock election at their school.
Civics teachers Shane Zavala and Lenore Ale oversaw the voting process in Rocky Run's library and expected some 500 students to vote. They also planned to compare the school's results with the results statewide.
"They'll also see there's a significant drop in voter participation this year because it's an off-year election," said Ale. "So the seventh-graders chose not to participate this year, like they did in the presidential election."
Voting Results
Governor: McAuliffe, 43 percent; Cuccinelli, 33 percent, Sarvis, 21 percent.
Lt. Governor: Jackson, 49 percent (168 votes); Northam, 49 percent (166 votes).
Attorney General: Obenshain, 50 percent; Herring, 48 percent.
67th District Delegate: Nguyen, 53 percent; LeMunyon, 45 percent.
Sheriff: Wolfe, 43 percent; Kincaid, 25 percent.
Money for School Improvements: Yes, 79 percent; No, 21 percent.
Students received voter ID cards the previous week telling the election dates. "They had to get their cards stamped by Oct. 29 to vote Oct. 31," said Ale. "Virginia closes voter registration 22 days before the election, so we wanted them to learn that lesson. They also had to bring their voter IDs with them or they couldn't vote."
They voted for everything on the real ballot. "We taught them how to find information on the candidates, but didn't discuss them individually," said Ale. "We also explained there's a difference between seeing the candidates' ads and doing the research."
She and Zavala checked students' voter IDs as they entered the library and then sent them to voting "booths" to vote via computer. Apathetic voters, such as Jon Tammaro, were separated from the others and didn't vote.
"I didn't like any of the governor's candidates," he said. "And I wasn't informed about any of the lower candidates, so I didn't feel like I could make a good decision."
Alex Bowman, however, was informed and did vote — for Republican Ken Cuccinelli for governor. "I did some research at home and my dad works for a Republican senator in New Hampshire," she said. "I agree with Cuccinelli on many of the issues, especially on how to fund education. And I was influenced by my dad, who tells us what he's doing at work."
Also among the voters were Shreya Menon, Alayna Lee and Christopher Kim. Shreya chose Independent Robert Sarvis for governor. "I feel like the other two candidates are just attacking and not focusing on what they stand for," she said. "They haven't made that really clear. They just tear down each other; it's a really negative campaign."
She said she tends to agree with Republicans' viewpoint of "government stepping away from the economy and letting businesses grow on their own. But if government is hands-off altogether, it's bad because then there's chaos. And I feel like primaries cut out the moderate people that could be good leaders."
Alayna voted for Terry McAuliffe for governor. "It's mostly because my family's politically involved," she said. "My brother's a strong Democrat and he's really smart, so I look up to him. And my mother's moderate, but leans Democratic. I think lots of kids are influenced by their parents and tend to vote that way."
Although Alayna believes both major gubernatorial candidates are too extreme, she said her views are more liberal Democratic. "McAuliffe's views about women, abortion, birth control and same-sex marriage agree with mine," she said.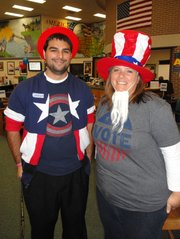 Christopher said he didn't know much about what McAuliffe and Cuccinelli stand for. But, he said, "Politics is nasty stuff — it's all messed up. If you want to be a leader, you should be a kind, generous person. Each side should lean more to the middle. I don't think politics should be such a dirty game."
So he voted instead for "the underdog," Sarvis. "I don't like the views of the other two candidates," said Christopher. "It's more of a pride thing now. They don't care about the people they represent; they just care about winning and trying to prove the other team wrong."
Added Shreya: "Politicians forget about who elected them as soon as they get into office."
Calling the mock election a good idea, Christopher said it's useful for the eighth-graders because "the election is our hot topic in civics right now." And Shreya said it was a good experience because "hands-on is a good way of learning; we're really lucky that our school does this for us."
Christopher said the students' vote was important "because it tells you what we're learning about the world." Besides that, said Alayna, "We're the voters of tomorrow."