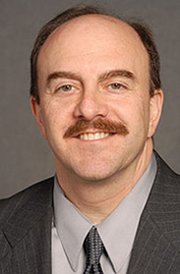 After 18 years on the Arlington County Board, Chris Zimmerman announced last week that he is stepping down to take a position as vice president for economic development of Smart Growth America, a Washington-based advocacy group that promotes walkable neighborhoods near public transit. During a press conference last week, Zimmerman announced he would be stepping down in January. That would likely set the stage for an April special election to fill the seat.
"I never planned to be a County Board members indefinitely," said Zimmerman. "But the kind of position that I had hoped to find has come my way a bit sooner than I would have expected."
Although Zimmerman has been the leading champion for a controversial $300 million streetcar project along Columbia Pike, his exit from the board could change the political dynamic on that issue. After longtime County Board member Barbara Favola was elected to the Virginia state Senate in 2011, the issue of streetcars emerged as one of the leading issues in the special election. Most of the candidates in that race were against the streetcar or skeptical of it. After School Board member Libby Garvey won the Democratic primary, she staked a position in firm opposition to the project for the general election against Republican Mark Kelly and Green Party candidate Audrey Clement.
"If the last special election is a guide, and I think it is, the streetcar will be a very important issue in this special election," said Peter Rousselot, a former chairman of the Arlington County Democratic Committee who has become one of the chief opponents of the streetcar system. "A good candidate understands public opinion."
SPECIAL ELECTIONS have a long history in Arlington, where members tend to hold onto County Board seats for long periods of time only to resign abruptly. Zimmerman, for example, first ran for the County Board during a special election back in 1993, when William Newman became a Circuit Court judge. That opened up a hotly contested special election that included Jay Fisette, who was then executive director of Whitman-Walker's Northern Virginia AIDS clinic, and Charles Monroe, who was the chairman of the county's Human Rights Commission. Zimmerman, who was then chairman of the county's Neighborhood Conservation Advisory Commission, lost the Democratic primary to Fisette.
Although he lost his first campaign, Zimmerman was not willing to give up. He took a position on the Planning Commission and began setting the stage for another campaign. That opportunity came three years later, in 1996, when County Board member Mary Margaret Whipple was elected to the Virginia state Senate. Since that time, Zimmerman has become a leading advocate for mass transit and smart growth. During his speech announcing his resignation, Zimmerman said he hopes to share lessons from Arlington's economic development with other communities.
"Today I feel great satisfaction for what we have achieved," he said. "Arlington is looked upon with admiration in our region and beyond."
ONE OF ZIMMERMAN'S chief accomplishments may be at risk, though, by his decision to step down. If this special election follows the contours of the last special election, most candidates in the race will oppose the project or be skeptical of it. That means that the chief advocate of streetcars could be replaced by a skeptic, adding a second critical voice that would join Garvey in asking questions about the costs of the proposal compared to bus-rapid transit. Perhaps even more significantly, the voters would be sending a signal about their concerns over the proposal in advance of the next election, when Walter Tejada and Mary Hynes would be on the ballot.
"There is a growing unrest about the streetcar, and the County Board is not listening," said Charles Hokanson, chairman of the Arlington County Republican Committee. "So I think the streetcar is likely to be the central focus of the special election."
Ever since the federal government rejected to kick in $60 million for the streetcar system as part of the Small Starts program earlier this year, opponents have renewed their calls for a cost-benefit analysis. But like many aspects of the debate about the streetcars, various sides are in disagreement about whether or not a cost-benefit analysis has even been conducted. Supporters say all the necessary studies have been conducted and that calls for a cost-benefit analysis are just a veiled effort to delay and obstruct. Opponents say the studies have never included a serious investigation into bus-rapid transit. That means many of the lingering questions about the streetcar are likely to take a center stage in the campaign.
"Any candidate who runs for the County Board is likely to be asked about this issue," said Mike Lieberman, chairman of the Arlington Democratic Committee. "It's an issue that's certainly capturing a lot of attention right now."