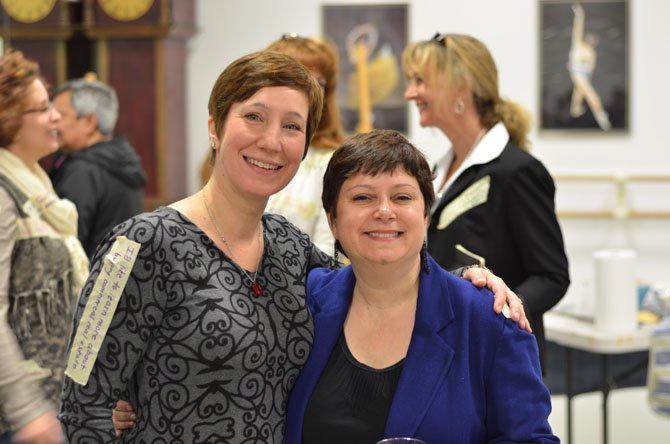 Saturday, Nov.16, the Council for the Arts of Herndon held a networking event at the Classical Ballet Theater, in the Reston-Herndon Office Park. Wine and light refreshments were served, and the event was open to the public. "We had always planned to hold the event at different venues to highlight the arts venues in Herndon," said Council for the Arts of Herndon (CAH) Director Signe Friedrichs. "The first of these events was held at ArtSpace Herndon."
Herndon resident Tricia Cherrington Ratliff assisted in setting up the Creative Connection Event. A local artist, Ratliff was asked by the CAH to make her successful art networking event public. "It began as a gathering of five artists in my studio who came together to show our latest work and get inspiration: Jordan Xu, Vicki Blum, Trisha Adams, Juanita Dahlin and me," said Ratliff. "We naturally shared business knowledge with each other too."
During the meeting, everyone has the freedom to share or display their latest project, portfolios, handouts or news. Attendees could participate in the "Creative Connections Game," where participants write labels describing what they do and a goal they are trying to achieve. "There's a kind of collective 'pay it forward' attitude that makes the game successful," said Ratliff. "I had come up with the idea of a game for a Women in Technology networking event many years prior and saw that it would be applicable to this group," stated Ratliff.
Amy Skiavo, resident of Chantilly attended the event with her sister. "My sister Anna Bledsoe volunteers with the Herndon Arts Council, so I came out to support them." Skiavo enjoys designing jewelry in her spare time and has written for several different comedians before beginning her own career in comedy.
Also attending was Reston resident Kathleen Leatherwood, author of "That Crazy English: Raps and Songs for Teaching English Literacy." "This is my second time attending this networking event. I heard about this through a friend at ArtSpace Herndon," said Leatherwood. She is a former ESOL teacher for Fairfax County Public Schools in Virginia.
Other artists attending the event included Vicki Blum, who brought several paintings with her. "I find this to be an opportunity to speak with other artists and enhance my career. It is a great exchange," said Blum. Freelance artist Jordan Xu brought several pieces with him. Xu has a painting style that combines classical realism with vibrant colors and broad, casual brushwork. Also attending was professional guitarist Al Robertson, board member of the Herndon Foundation for the Cultural Arts.
"I am very happy with the event," said Friedrichs. "As time went on more and more connections were made. This is one of our most satisfying events because it consists of people learning from each other."
Herndon's Classical Ballet Theatre of Northern Virginia will be performing the holiday favorite "The Nutcracker" this year at Northern Virginia College in Annandale, production dates are Nov. 30-Dec. 1. For more information and to obtain tickets, visit www.cbtnva.org/nutcracker. To learn more about Council for the Arts of Herndon, visit herndonarts.org.