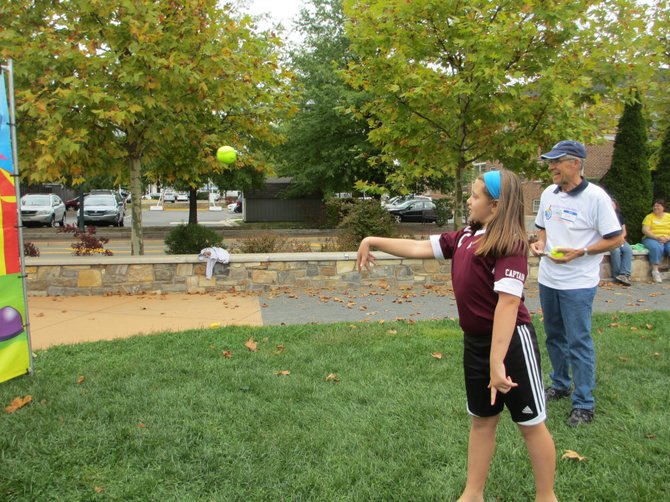 Photo Gallery
Vienna Fun Day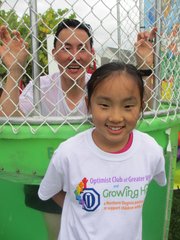 Click Photo for Flash
Overcast skies and cool-ish temperature might have kept some people away from the Optimists' fundraiser Family Fun Day and Walk for Growing Hope, but for those who came to jump in the bouncehouse, dunk Del. Mark Keam and Caffe Amouri owner Michael Amouri, and to bid on raffle and auction prizes, the time was well-spent and rewarding. Particularly so for the families with children once diagnosed with cancer, who welcomed the opportunity to say thank you to Growing Hope for supporting them, and to the Optimists of Greater Vienna for supporting Growing Hope. Activities and refreshments were free to the public.
Emily Knisley's strong arm had no trouble dunking Keam into the chilly tank of water. Emily said she comes because she had cancer herself.
"Growing Hope really helped our whole family," said Debbie Knisley, mother of former cancer patient Emily, now aged 10. "It helped to make the children excited to come to the doctor's office. The whole family was embraced." Emily was diagnosed with leukemia when she was 4 years old and underwent two years of outpatient chemotherapy at Inova Fairfax Hospital's pediatric oncology center. Debbie Knisley said she and her daughter usually come by the Optimists' fun day to say "hello" and make a donation.
Approximately half of Growing Hope's operating budget is funded by the Optimists of Greater Vienna. Seventy-five percent of the funds that the Optimist Club of Greater Vienna raises on behalf of its childhood cancer campaign go to Growing Hope; the remainder is donated to Johns Hopkins pediatric oncology programs.
Growing Hope supports Northern Virginia families facing childhood cancer with educational resources, fun events and tools to ease the impact of the disease on the patient, siblings, parents and grandparents. Growing Hope's services are free.
The Vienna-area community came through with donations of time, refreshments and raffle gifts. Country-rock band Donaldson's Run and face painter Angela McCall of Paint Me a Party accepted no fee. Pizza to fruit to drinks were provided by local restaurants and stores.
The Optimist Club of Greater Vienna operates Vienna's Saturday farmers' market and maintains the caboose that sits along the W & OD path. The club's annual Christmas tree sale is its biggest yearly fundraiser, supporting projects and programs that target the community's youth. Optimists Family Fun Day chairs Anna Ryjik and Susan Bauer estimate the club will have more than $28,000 to present to Growing Hope on behalf of the 2013 childhood cancer research campaign.
To learn more about the Optimist Club of Greater Vienna, go to http://www.optimistclubofgreatervienna.org/. The Optimist Club of Greater Vienna meets the first and third Wednesdays of every month, starting at 7 p.m. at Marco Polo Restaurant in Vienna. New members are welcome at dinner meetings.
—Donna Manz