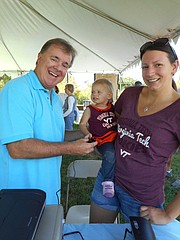 On the morning of Sept. 19, the Vienna Town Green was filled with live music, laughter and children running around "dunking" local familiar-faces in a dunk tank, jumping in a bounce house, getting faces painted or fingers finger-printed, getting a balloon animal, or nibbling on free refreshments while listening to Donaldson's Run perform classic rock and pop … all courtesy of the Optimists of Greater Vienna and its fundraising campaign on behalf of Growing Hope and childhood cancer research. Growing Hope is a northern Virginia resource for families with a child facing cancer treatment.
Local businesses donated gifts for the raffles and live auction, and refreshments. Dunkin Donuts, Foster's Grille, Manhattan Bagel, Starbucks, Trader Joe's and Vocelli Pizza supplied an assortment of free food. Donaldson's Run donated their time and talents for the third consecutive year.
The only "charge" was to "buy" balls for dunking popular personalities in a tank of water. Virginia House of Delegates Vienna representative Mark Keam was the first "dunk-ee," followed by Vienna Town Manager Mercury Peyton, Optimist president Dick Gongaware, Caffe Amouri owner Michael Amouri, and Madison High School basketball team coach Kristen Stone.
Growing Hope receives 90 percent of the funds that the Optimists raise throughout the year; the remaining 10 percent goes to Johns Hopkins for its pediatric oncology research program.
The Optimist Club of Greater Vienna supports local youth through scholarships, awards, activity sponsorships and fundraising for childhood cancer research. The club raised $30,000 this year for its childhood cancer campaign. For more information on the Vienna Optimists, go to www.optimistclubofgreatervienna.org.