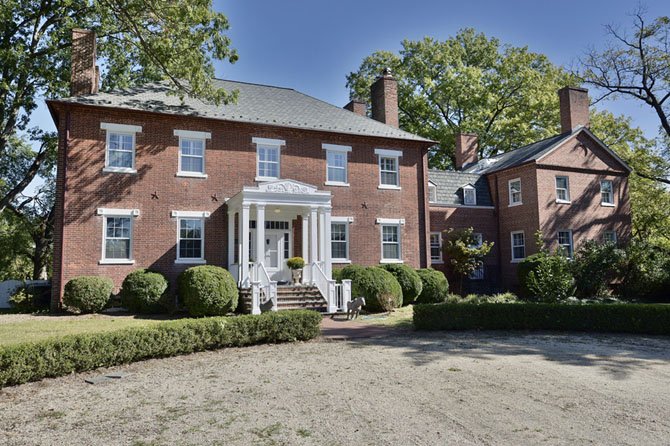 Great Falls — Cornwell Farm, a 13.1-acre historic property located within a mile of the Great Falls Village Centre, has been listed for sale by the HBC Realty Group (Keller Williams) of McLean.
The four bedroom, 3.5 bathroom home was built around 1831, and was accepted to the National Register of Historic Places in April 1977.
"It is scenically important in that it is the major architectural element to be seen along the historic Georgetown Pike, the first road in the state to be designated a Virginia By-Way," reads the National Register of Historic Places. "Built in 1831, the house, with its Georgian outline, displays the architectural conservatism characteristic of the region. The house is well crafted, its Flemish-bond brickwork is exceptionally fine, being of a quality comparable to finest townhouses of Georgetown or Alexandria."
According to the register, the two-story Georgian house differs from the Greek revival style that was popular at the time.
The house is 5,102 square feet, and features 10-foot high ceilings, plaster walls, nine wood burning fireplaces and four chimneys. It also features original glass blown windows, two libraries, a full dining room with built-in china cabinets and a family room with custom built-in shelving and painted woodwork.
The property is divided into two parcels, an 8.1-acre parcel that includes the historic home, a horse barn and caretaker's cottage, and a five-acre parcel with an easement for egress.
The land was originally part of Great Falls Manor, a 12,588-acre property once owned by Lord Fairfax. It was made into a farm as early as 1801 by John Jackson, who eventually constructed the house as a home for his daughter, Julia Jackson Davis.
The property was used as an encampment for Union soldiers during the Civil War. Prior to a restoration, soldiers' names from New York, Connecticut and New Jersey, among others, were inscribed on the plaster walls.
The house was restored under the supervision of architect Theodore Dominick from 1936 to 1937. The restoration included the addition of a two-story wing and porch on the south end.
The property is being listed at $4.9 million. More information can be found at www.hbcrealtygroup.com.