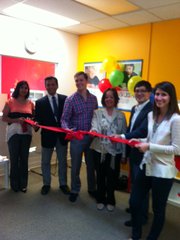 Eye Level has opened a new learning center in the Jermantown Square Shopping Plaza at the intersection of Jermantown Road and Lee Highway in Fairfax. Eye Level is a supplemental education program that encourages students to apply critical thinking skills in their academic pursuits.
Helping to celebrate the grand opening were Andrew Sample, Jessie Sample, Rabia Badar, Joe Montano, Janet White and Kevin Lee.
To learn more about the program, please call the Fairfax Learning Center at 703-273-2586.