Photo Gallery
Duy Lam Exhibit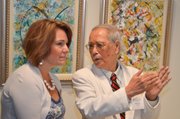 Click Photo for Flash
On Saturday, Aug. 10 ArtSpace Herndon hosted a reception for artist Duy Lam's exhibit, "Union of Color and Form." This exhibit opened to the public on Aug. 6 and will continue to be on display until Sept. 1.
"I love the art work of Duy Lam," said ArtSpace Director Dale McGrath. "He is quite a genius and has a storied life. It has been a joy to work with him and his family. The exhibit tells a story of old town Vietnam and includes some of his more recent abstract works. I encourage everyone to come see it before September."
Duy Lam was born in Hanoi, Vietnam in 1932. Lam started writing at the early age of 20. His first published book, "My Family," is a characterization of his own family and solidified his perch in Vietnam's literary world. "I was a poet and a writer longer before I became a painter," said Lam.
Lam was a lt. colonel of the Army of the Republic of Vietnam (ARVN). After the Vietnam War ended in 1975, he was imprisoned in the communist concentration camps for 12 years. In 1985, PEN International Congress elected him as an honor member. In 1990, Lam immigrated to the United States with his family. He was awarded the Freedom of Expression award of the Human Rights Watch in New York, 1992.
Duy Lam began painting in earnest in 1995 when he and his family were living in California. "I am self-taught. I studied the great masters and find Cezanne to be a great influence," he said. Currently, Duy Lam and his family reside in Northern Virginia.
Melaine Z. Stanley, a local resident and art enthusiast, was also at the art reception with her grandson, Peter. "We saw his art before the reception and Peter wanted to meet the artist," said Stanley. Also attending the event was Herndon Mayor Lisa Merkel.
Mercia Hobson, vice president of the Herndon Foundation for the Cultural Arts, welcomed everyone to the event. "We may be small in size but we do big things here," said Hobson. She also thanked Cox Communications and all volunteers for their assistance: "Without this entire team we could not do what we do."
To learn more about this show and other upcoming events at ArtSpace visit www.artspaceherndon.com.