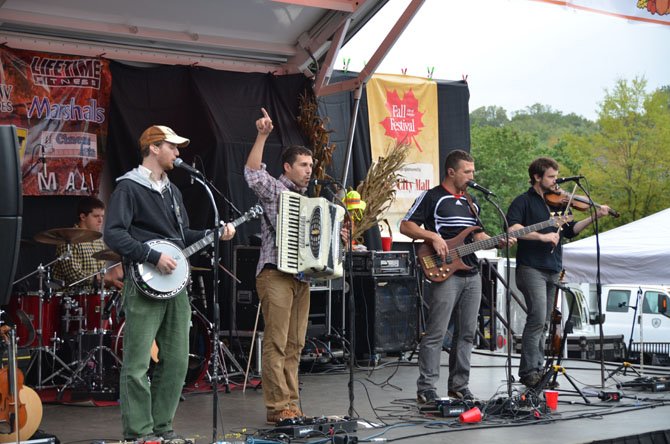 With a forecast of rain and showers, the event planning team for the City of Fairfax Park and Recreation Department postponed the annual Fall Festival Celebration—originally planned for Saturday—and held it on Sunday, Oct. 13. "Mother Nature is one thing we cannot control," said Leslie Herman, special events manager at the City of Fairfax Parks and Recreation Department. "With the forecast for the weekend, we felt fortunate we were able to reschedule for Sunday."
This year was the 37th annual Fall Festival. "We start working on the Fall Festival in about January. We see what we want to change or add," said Herman. "We are also working on other events throughout the year. We like to book our carnival companies and entertainment early."
THIS YEAR more than 300 vendors attended. Amusement rides were set up at the Sun Trust Bank Parking lot, at 4020 University Drive.
Eve Ruffner was one of the more than 30 volunteers assisting with the day's events. A student at Virginia Commonwealth University, Ruffner has previously volunteered for the Fairfax Fall Festival. "The rain affected the event. There was a decreased attendance," said Ruffner. Still, most vendors left the event satisfied. "We had some good sales," said vendor Gregg Jones. A resident of Annapolis, Md., Jones is the owner of a photo and frames business, New Earth Frames.
All the musical entertainment signed on for the event attended. There were four entertainment stages, including the Main Stage by University Drive and South Street, the Children's Stage, the Festival Stage by Old Town Hall and the Country Stage by University Drive and Armstrong Street. Master of Ceremonies for the Main Stage was Jarrod Wronski.
A resident of Herndon, Wronski said, "I've been coming to the Fairfax Fall Festival since I was a child, this event is one year older than I am." Wronski's wife and children were also attending the festival. "It is a great event to bring your family," said Wronski.
Another new feature for the festival was the All American Lumberjack Show. Professional lumberjacks competed in 11 different events in fast paced entertainment. Audience members could see everything from axes, modified racing chainsaws, water events and cross cut saws. Each show offered different events. "The adults had just as many laughs as the children," said Herman.
THE LUMBERJACK SHOW was sponsored by JL Tree Service, a Northern Virginia tree service company based in the City of Fairfax. Two elite sponsors for this year's festival were Fair City Mall and radio station 97.1 WASH-FM.
Another feature of the festival was the open house events at several local institutions including the City of Fairfax Museum & Visitor Center, the Ratcliffe-Allison House, the Historic Blenheim and the Civil War Interpretive Center, and the Fairfax Volunteer Fire Department Station #3. "It was a good turn out," said firefighter Captain Page Whitacre.