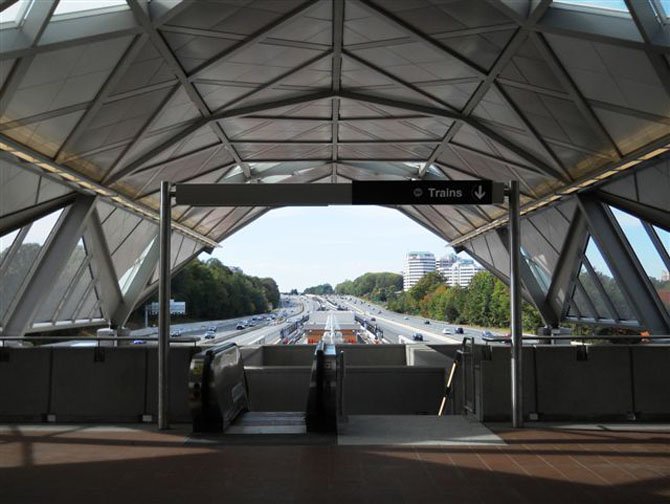 While the precise opening date for Phase 1 of the Silver Line has not been set, Dulles Corridor Metrorail Project crews are putting the finishing touches on the systems and structures at the future Wiehle-Reston East station.
This station is now approximately 98 percent complete, according to the Metropolitan Washington Airports Authority, owners and managers of the project.
A clear signal of construction progress is the recent installation of the familiar Metro signage at the stations and the entrances to pedestrian pavilions and access points on both the north and south sides of rail facilities at the Wiehle Station in the median of the Dulles Toll Road, Airport Access highway corridor west of the Wiehle Avenue overpass.
The signs also are now going up at the four stations in Tysons Corner.
At the Wiehle Station, a variety of punch list items are being done. Curb and gutter is being installed and landscaping is in place. Windscreens, passenger information systems and lighting have been installed. Hook-ups are ready for installation of fare card machines by the Washington Metropolitan Area Transit Authority (WMATA). The station manager's kiosk is in place. Elevators and escalators are operational but still being tested.
Throughout the alignment from East Falls Church to Wiehle Avenue, significant testing is taking place day and night. Test trains—some as long as six cars—have been spotted in Reston and Tysons Corner.
The Airports Authority is working closely with its design-build contractor for Phase 1, Dulles Transit Partners, Fairfax County and with WMATA, which will take over the new line after it is completed and significant testing is done.
Testing to ensure the safety of the system remains the top priority of all the agencies involved, project officials said.