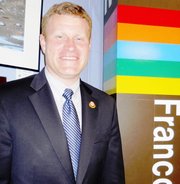 Supervisor Jeff McKay (D-Lee District) offered the following Insiders' Tips on his district:
Top three headlines:
Line for Springfield Town Center Opening Day forms three days before grand opening

FBI Moves to Springfield

On heels of completing the transit study, state remembers it is responsible for the condition of Route 1 and decides to invest in improving its infrastructure
Places to Take a Visitor
Huntley Meadows Park and Boardwalk: Where else can you see such a variety of wildlife and vegetation so close to an urban center?

Our Special Harbor and Spray Park: It's great to see children of all ages and abilities having fun.

Walker's Grille: The first green, LEED-certified restaurant in Virginia—and it's right here in Lee District.
Tips about Lee District
Just about anything you're looking for, we've got:
History: Historic Huntley, the Franconia Museum, and we're just minutes away from Mount Vernon

Transportation: Robust transit and access to every major highway but Route 66.

Shopping: Coming soon—Springfield Town Center and Wegmans

Housing: Everything from apartments to condos to single family

Education: Great high schools and the Northern Virginia Community College's Medical Education Campus