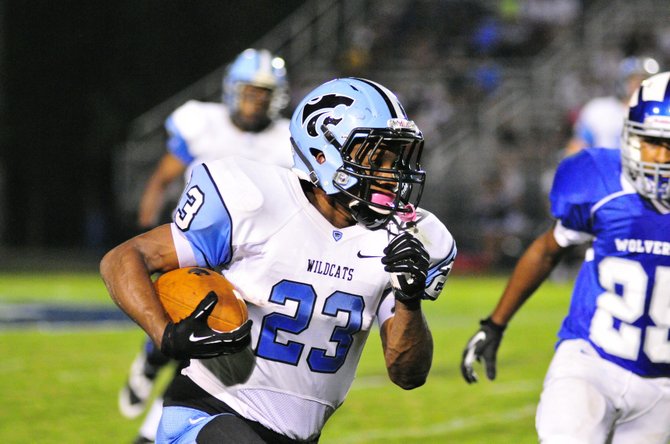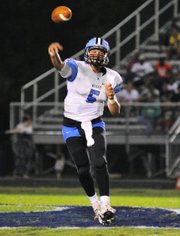 After the Centreville football team's season opener against West Potomac, head coach Chris Haddock said the Wildcats had been concerned with the big-play capabilities of speedy Wolverine running back DeMornay Pierson-El.
The University of Nebraska commit is a threat to score whenever he touches the ball, but Centreville's defense was up to the task of slowing the standout, while the Wildcats were the ones lighting up the scoreboard.
Centreville quarterback Scott Walter threw three touchdown passes and the Wildcats rushed for 300 yards en route to a 51-7 victory over the Wolverines on Aug. 29 at West Potomac High School. Walter competed 5 of 7 passes for 117 yards, receiver Charles Tutt finished with four receptions for 81 yards and two scores and more than 10 Centreville ball carriers combined for a dominant ground attack against a West Potomac team that beat the Wildcats in the 2012 regular season.
On defense, the Wildcats forced three turnovers, limited Pierson-El to 33 first-half rushing yards and held the Wolverines scoreless until the final minute of the game, when Pierson-El, who had moved to quarterback, threw an 87-yard touchdown pass.
"Certainly, it was a pretty good start," Haddock said. "We were very concerned about their speed. We've not had a lot of success coming out here. … We wanted to make sure we came out and really did a nice job, especially on DeMornay. He's just an outstanding player, one of the best I've ever seen. The danger there is that on any play, he can go, and our defense did a great job tonight."
Junior defensive lineman Devante Wright had an interception and a fumble recovery for Centreville, and junior defensive lineman Jordan Brooks returned a West Potomac fumble 61 yards for a touchdown in the second quarter. The defense also forced Wolverine quarterback Preston Jones to throw the ball away in the end zone, leading to an intentional ground penalty and a safety --- all of which helped the Wildcats build a 44-0 halftime advantage.
"Expectations this year are through the roof."

--- Centreville quarterback Scott Walter
On offense, more than 10 different ball carriers totaled 300 rushing yards, including a team-high 97 from junior Taylor Boose. Junior running back Xavier Nickens-Yzer carried six times for 55 yards and two touchdowns and senior Chase Heiner carried twice for 32 yards and a score. Junior AJ Turner rushed four times for 36 yards and caught a 36-yard touchdown pass.
Walter, in his second season as Centreville's starting quarterback, didn't get many opportunities to pass, but made West Potomac pay when he got the chance.
"He's got a year of experience under his belt," Haddock said. "This is the first time since I've been a head coach where I've had a quarterback return for me. He has a lot of the nuances down that take a lot of time to get to. He's a smart kid, he's athletic. What I love about him, though, he's just such a great competitor and he gets fired up about things. He and I get after each other pretty good and I love that about him. I think that he's been a great leader for us, too, as a senior."
Centreville reached the state championship game in 2011 and lost to Oakton on a late touchdown in the 2012 region semifinals. This year's team has high hopes.
"Expectations this year," Walter said, "are through the roof."
Centreville will host T.C. Williams at 7:30 p.m. on Friday, Sept. 6. The Titans defeated Oakton 38-2 on Aug. 30.