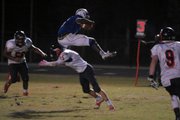 West Potomac senior DeMornay Pierson-El stood confident in the pocket, looking calmly down field without fear of a pass rush. The West Springfield defense took a passive approach, with lineman focusing on containment rather than pressuring Pierson-El, leaving the Wolverines' running back-turned-quarterback looking statuesque as he searched for an open receiver.
The Spartans' strategy? Force Pierson-El, who is committed to the University of Nebraska as a slot receiver and kick returner, to throw rather than tuck the ball and use his blazing speed.
"Our athleticism and speed just doesn't compete," West Springfield head coach Jason Eldredge said. "… We had to do a couple things schematically to try to hold down DeMornay."
The Spartans' attempts to contain Pierson-El proved futile, as No. 5 rushed for 200 yards and three touchdowns and passed for 166 and three more scores during a 47-29 Wolverines win on Oct. 14 at West Potomac High School. The game was rescheduled from Friday to Monday due to inclement weather.
Pierson-El completed 8 of 16 passes, including a 57-yard bomb to CJ Burch on the game's first play. His 18-yard touchdown pass to Jordan Alexander gave West Potomac a 26-17 lead with 6:06 left in the third quarter. Pierson-El had a 35-yard scoring toss to George Williams IV, who made a leaping catch in double coverage to give the Wolverines a 33-17 advantage. Pierson-El's final touchdown pass came with 3:10 remaining in the fourth quarter, when he connected with David Appiah for a 20-yard score that put West Potomac up 47-29.
"What they're trying to make him do is be a quarterback and he's doing his best imitation right now."

--- West Potomac football coach Jeremiah Davis about DeMornay Pierson-El
"What they're trying to make him do is be a quarterback and he's doing his best imitation right now," West Potomac head coach Jeremiah Davis said. "Everybody knows he's not a classic trained passer or nothing like that. … He did a good job getting the ball to people in open sports, making the right decision … and taking off and running."
Pierson-El's first touchdown run came late in the opening quarter, when he rolled to his right, paused for a moment to look down field and then exploded up the middle of the field for a 64-yard scoring scamper.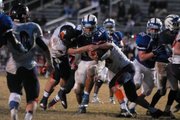 On third-and-goal from the 5-yard line late in the first half, Pierson-El leaped into the end zone to give the Wolverines a 19-10 lead.
His final touchdown run came in the third quarter, when he took a chance and made a play. The call from the sideline was a toss left, but Pierson-El noticed there was only one Spartan to beat to the right side. Instead of tossing the ball to the left, Pierson-El kept it and raced around the right end for a 48-yard touchdown.
"That kid, you can't stop him," Eldredge said. "… If we do [rush the passer], which we did a couple times, just to try to see, he's right in the end zone. It's a feast-or-famine kind of deal with that. What I needed us to do on offense was kind of keep him off the field and we just couldn't do that well enough."
Alexander scored a rushing touchdown for West Potomac. Senior linebacker Darien Pickett, who was an all-region guard last year, carried 10 times for 38 hard-nosed yards.
How would Pierson-El describe Pickett's running style?
"A nightmare," he said. "… He's tough to bring down, he's strong, he's quick for his size and people are not used to that."
At 5 feet 10 and 220 pounds, Pickett, who is a standout rugby player, gives the Wolverines a powerful presence in the ground game.
"I knew from his rugby stuff that he can definitely carry the ball," Davis said. "… He adds another dimension. You've got a big guy to stop [and] you've got a little fast guy to stop. It's kind of tough."
West Springfield trailed by 16 points early in the fourth quarter but came charging back with a pair of touchdowns during a 17-second span. Senior quarterback Jacob O'Connell scored on a 16-yard run with 8:14 remaining, cutting the West Potomac lead to 33-23. The Spartans pooched the ensuing kickoff and recovered the ball at the West Potomac 30-yard line. Two plays later, running back Adis Ojeda scored on an 8-yard run, cutting the Wolverines lead to 33-29 with 7:57 left.
That was as close as West Springfield would get, however, as West Potomac added a pair of late touchdowns.
"It felt good," Pickett said about scoring 47 points. "But, [defensively], it's a good win but we've got to play better. We were kind of slacking."
Glen Rushing and Michael James each had one interception for West Potomac.
Ojeda carried 11 times for 94 yards and two touchdowns for the Spartans. O'Connell completed 14 of 29 passes for 162 yards and two interceptions. He carried 20 times for 77 yards and two scores.
West Potomac (2-4) will travel to face South County (5-1) at 7:30 p.m. on Friday, Oct. 18. West Springfield (2-4) will travel to face Lake Braddock (6-0).