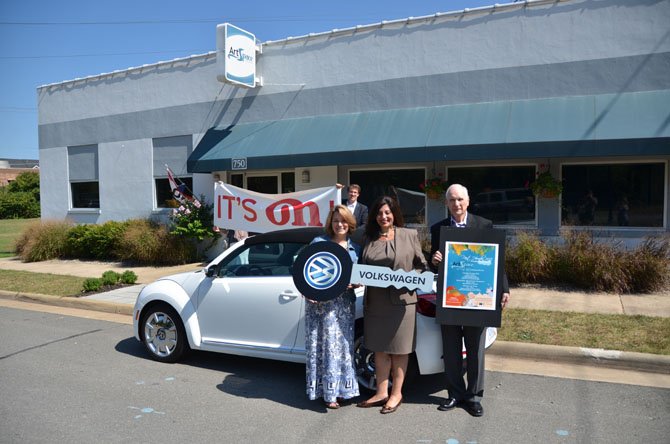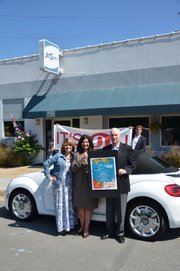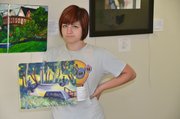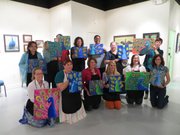 "Over 325 people attended the ArtSpace Herndon annual Paint Herndon," said Robin Carroll. A former director of ArtSpace Herndon, Carroll helped organize this year's Paint Herndon event, an annual birthday of the ArtSpace Herndon. Held this year on Saturday, Sept. 21, all scheduled activities went on as planned as rain held off until the reception and award ceremony.
The cornerstone of the event is the painting competition, which is designed in the spirit of a "day painting" competition and challenges artists to create works of art in a short period of time. "The art was amazing," said Emmanuelle Marie Carnogursky. A resident of Herndon, Carnogursky also participated in the painting competition, submitting three finished oil paintings. "I have been painting with oil since the age of 14 … I got right to painting as soon as I had my canvas stamped, it was a lot of fun."
Two other big activities at the ArtSpace Herndon event were the VW "Doodle Bug" and the animals available for adoption from Lost Dog and Cat Rescue Foundation. The Doodle Bug, a Volkswagen Beetle wrapped in white vinyl to enable a dry-erase canvas, was on display at ArtSpace Herndon for guests to demonstrate their artistic talent on the car. Volkswagen of America has an office in Herndon, and staff from their office drove the vehicle to ArtSpace Herndon.
ARTSPACE HERNDON was created by the Herndon Foundation for the Cultural Arts. Establishing ArtSpace Herndon was the foundation's first step in a mission to promote and support the arts through the creation of a full-scale arts center in Historic Downtown Herndon. Each year ArtSpace Herndon hosts art competitions including fine art photography, portraits, and the Herndon town calendar.
ArtSpace has also been developing its music outreach program. This year ArtSpace will be utilizing the funds from a grant from the Arts Council of Fairfax County to present "CrossCurrents," a two-part master class and world music concert series. The first concert will be held at ArtSpace on Oct. 12 and will feature musician Ranendra Kumar Das.
During the Paint Herndon event, children painted in the style of Jackson Pollock with Viki Mutarelli of ArtSmartKids from 10 to 2 p.m. Visitors created Go Green Art with Ruth Junkin and made books with Carla Falconi. The demos by Cecilia Aquino and Robert Bernhards drew interested patrons to the Post Gallery. From 12:30 to 3:30 p.m. dance and choreography by Michele Koros of Sun Dance Performance Company enthralled the audience.
From 3:30 to 6 p.m. a reception was held and attendees were entertained by pianist Jean Goldsby. Attendees enjoyed lemonade, ice cream and cake and U.S. Rep. Gerry Connolly (D-11) stopped by to address the audience.
The Paint Herndon painting competition drew a total of 28 artists, ages 6 to adult. The judges for the competition were Jill Banks and Lori Goll, two artists in the current "Menagerie" exhibit. The quality of the work created in 24 hours or less "is amazing," stated the judges.
Cash prizes were handed out during the reception and awards ceremony. The Adult Competition was open to all adults and teens aged 16 and older. For the adults, first place prizes went to Michele Frantz for his work "Old Town Herndon" and to Nicholas Aman for his work "Yellow and Grey." Second place went to Gretchen Harris for her work "Fortnightly Mike" and third place went to Donna Robinson for her work "Spring Street Chicken Coop."
The Teen Competition was open to all teens aged 12 to 17. For the teen division, the grand prize went to Annabelle Goll for her work "Sleep" and honorable mention to Caroline Weis for her work "Town Hall." The Youth Competition was open to all youths aged 8 to 11. This grand prize was awarded to Jessie Harris for her work "Town Hall."
THE DAY ENDED with the Design and Wine class, where participants created paintings with instruction from Herndon artist Mary Sears. For this event participants had to register in advance. "We had a class on how to paint a peacock," said Sears. "There were 12 people and we painted with acrylic on canvas. Wine and cheese were also available. People had a great time and did a fantastic job. Also there was a tie in because the current exhibit, "Menagerie," has several paintings of peacocks." "Menagerie" closes on Sept. 29.