Photo Gallery
ArtSpace Herndon's Art in the Windows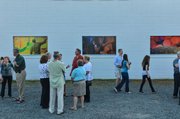 Click Photo for Flash
The Herndon Foundation for the Cultural Arts announced a first time event featuring public fine art panels, each 90"W x 50"H, installed in four empty window frames on the exterior of the ArtSpace Herndon building at 750 Center Street. On Saturday, June 8, from 7 to 9 p.m. there was a public art dedication and reception. The artwork transforms the back of the building, which faces historic downtown Herndon. The original artwork has been digitally printed on a material that will not fade or deteriorate for a period of at least two years, and each panel has been professionally installed. Each panel features a different artist's own unique design elements.
Harlon Reece, president of the Board of Directors for the Herndon Foundation for the Cultural Arts, welcomed everyone to the event. Cathy Callahan then described some of the objectives for this public art project. "It is amazing how a project like this can bring together the community," said Callahan. She was commissioned to be project coordinator and to help select the pieces that would be put on display.
THE ARTISTS, Jo Fleming, Lori Simmerman Goll, Jim Schlett and Christine Lashley, all reside in Northern Virginia.
"The art pieces have a lifespan that are guaranteed at least two years," said Callahan. "The vendor we used took digital images of them, printed them on vinyl, and the vinyl was adhered to aluminum panels, and the panels were secured to the window panels using adhesives, screws and caulk. The UV laminate should allow the images to be protected a minimum of at least two years. They are not there indefinitely, but at least an extended period of time."
One of the first images on the back is an artist doing a painting. This piece was by Great Falls artist Jo Fleming. This first image represents an individual installing artwork, and represents the installations of artwork going on at ArtSpace. The artist took a digital photo of this painting and submitted it. This piece is titled "The Installation."
The second image is an individual playing an instrument. Titled "Morgan's Bass" this image was selected because ArtSpace promotes musical events. This was by Great Falls artist Lori Simmerman Goll.
The third is an abstract image with circles, chosen because some of the exhibits are abstract art. This is actually a digital image done with photography. It is titled "Beyond the Planets" and was made by Jim Schlett, a member of the Greater Reston Arts Center. Schlett mentioned he once had a photo displayed at New York City Times Square for several seconds. "Now I have a few years of fame in Herndon," said Schlett.
The last image is the picture of the cows and a field, and this image was painted at Frying Pan Farm Park during Herndon's Paint Herndon plein-air painting competition. The town of Herndon used to be a farm town, and this is like a painting from the past. The work is titled "Farm Fields" and was composed by Christine Lashley. "This little corner is completely transformed by these artworks," said Lashley.
ANN RUST, commissioner for the Virginia Commission for the Arts was also at the event, as was her husband Del. Tom Rust (R-86). "ArtSpace is transforming Herndon," said Ann.
To learn more about ArtSpace Herndon, visit their webpage: http://www.artspaceherndon.com.