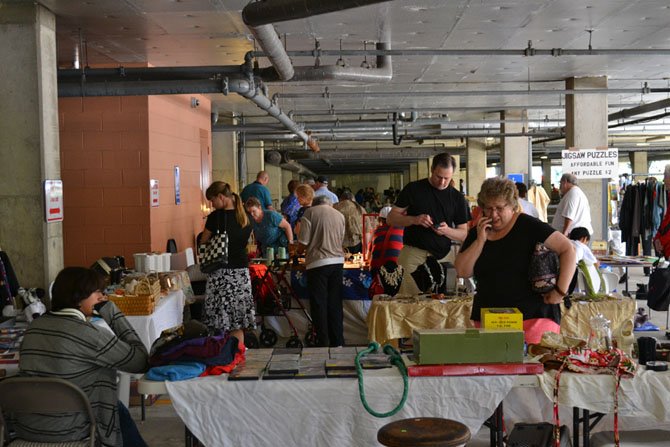 Longtime friends Nancy McCormick, Jeanne Nelsen and Liz Rothrock, who jokingly call themselves "poker widows," have always looked for ways to have fun while their husbands played poker. Recently, the friends of 26 years have discovered that they love to sell their wares at the MCC semi-annual flea market. "This is our fourth time here," said Nelsen. "We've gotten the same booth several times. We have an absolute blast." Not only do they have fun, they typically make up to $300 in a four-hour day.
Last Saturday, Sept. 7, the McLean Community Center held its popular Fall Flea Market on Beverly Road, behind the Giant shopping center. The MCC offers this community-wide garage sale twice a year, in April and September. It has been a hit since its inception in 1989, when it became an annual event. A few years later, the event became so popular that organizers decided to offer the event twice a year.
"We thought that many residential neighborhoods in the McLean area would not normally have yard/garage sales, so we wanted to provide an opportunity for them to have a community sale," said Sam Roberts, MCC's director of special events.
Vendors can rent a booth for $45, and there is no charge for customers to come browse. The McLean Community Center provides advertising for the event, and it draws shoppers from many parts of Northern Virginia.
Vendors sell anything from used clothing, jewelry and household goods, to valuable antiques. Commercial flea market dealers are also invited to sell both old and new items.
"I like the fact that there are some new things, and also some nice vintage stuff," said Alexandria resident, Diane Sullivan. "I thought it was great."