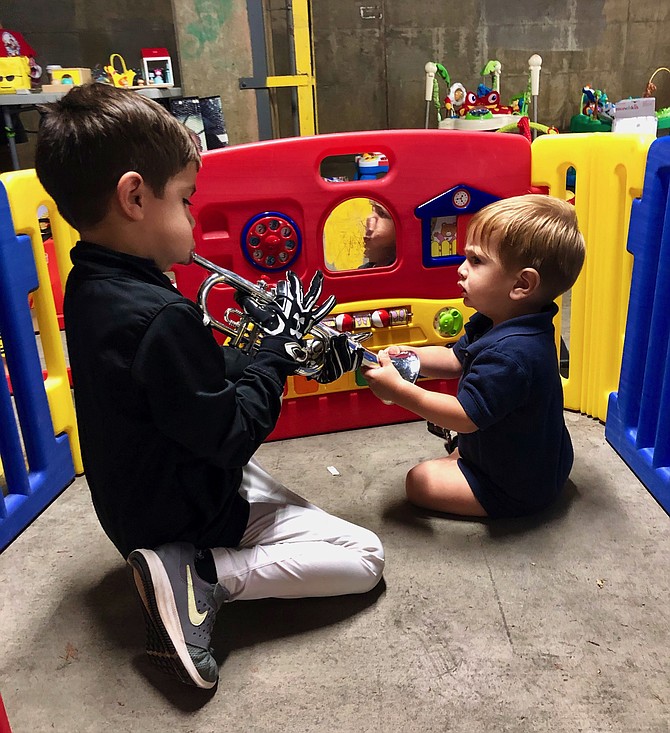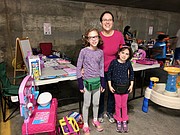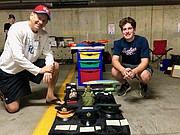 More than 100 people stood in line to enter the Fall Community Garage Sale hosted by the McLean Community Center, where more than 50 vendors had set up shop on Saturday morning. Residents from McLean and surrounding areas in Northern Virginia shopped at the sale, and more than 500 customers had visited within the first two hours. The sale was held in the parking garage on the corner of Beverly and Ingleside Road. Vendors young and old set up their booths with a variety of gently used items. Goods for sale ranged from baby necessities, jewelry, cooking pans, bicycles, books, board games, clothing, movies, toys, and home decor.
When asked by a girl nearly twice her age how much a small set of animals was, 5-year-old Ashley Reich replied "three dollars," and unzipped her fanny pack to make change for the customer. Ashley and her sister Michelle, 10, set up their own tables together with their mom, Diana. This year, Diana and her daughters were returning vendors because, "It's such a great opportunity for them to sell their things and meet others," Diana said. "The experience and learning how to handle money, it's all so valuable for them."
Among other vendors were brothers Henry, 16, and David Boehm, 13, and their father, Steve. Customers stopped in their tracks to look closer at their vintage magazines and historical military gear for sale. Displayed at the front of their booth were U.S. Army hats and canteens from the Vietnam and Cold War Eras. Henry shared that his uncle "has a world class military hat collection" and that his "grandfather is a Holocaust survivor, which inspired [him] to really immerse [himself] in U.S. history." It is a family affair of collecting historical military gear that all of the Boehm men find interest in.
"It's a shared experience," Steve said, "for us and for the customers… I enjoy watching the children pick up something from here that they may not have otherwise found interesting." Steve appreciates that the MCC puts on events like the garage sale and said "McLean is a fortunate place to live and things like this help forge a real sense of community."
George Sachs, the Executive Director at the McLean Community Center, said that the Fall and Spring Community Garage Sales are going on 40 years of being offered to the public. Vendors pay a small registration fee to have their tables set up at the sale, and everything that comes after is purely for the experience of the community. Sachs believes "there is a lot of good in McLean, and today [was] evidence of that."
The Fall Community Garage Sale was just the beginning of this season's events offered by the MCC, with more to follow in the coming weeks. Mark your calendars for Harvest Happenings, a family event on Sept. 28th and be sure to register for the McLean 5K on Oct. 5.