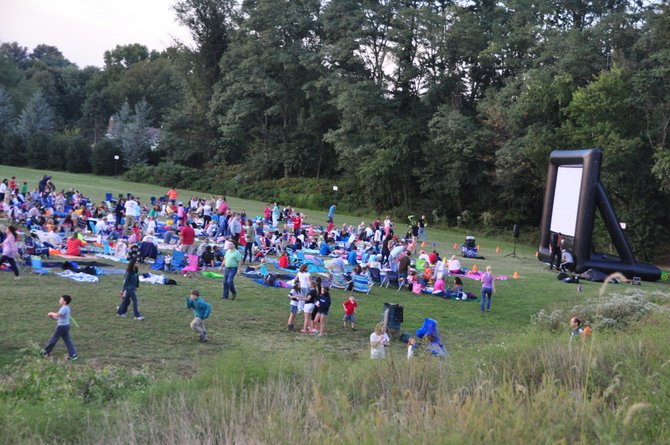 Though their weekend had officially begun several hours earlier, hundreds of Colvin Run Elementary School students and their families made their way back to the school at dusk Friday, Sept. 20 for the school's annual outdoor movie night.
"This is our welcome back to school event, and it's always a fun way to get everyone out," said Mary Lou Carmack, assistant principal. "It's also a great example of teamwork from our parents, staff and faculty."
This year's show featured "Hotel Transylvania," the 2012 animated movie. It was shown on an inflatable screen set up near home plate on the baseball field, and families set up blankets and chairs in the outfield. More than 700 people registered to attend.
"We do this event as a back-to-school event because it's a good way for parents, who might not have seen each other over the summer and in the early weeks of the school year, to reconnect as well," said Karie Greenblatt, a member of the school's Parent Teacher Organization.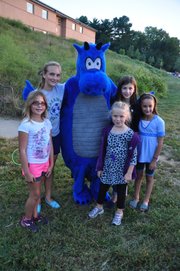 "We figure offering dinner makes it easier for the whole families to attend, that's one less thing they've got to worry about."
The event has been going on for at least six years, and the only time weather interfered was two years ago, when the screen and those in attendance had to be moved indoors.
The food was provided by On the Border Tysons Corner, and eighth grade students, most of them graduates of Colvin Run Elementary, helped serve the food and work the concession stand.
"It's sort of like a mini-reunion for the eighth graders, who get spread out to Cooper, Longfellow, and even Louise Archer Middle School," said Karen Billingslea, a member of the school's PTO.
Carmack called the movie night the latest example of the PTO's "amazing dedication to the school."
Last year Colvin Run's PTO performed more than 7,000 hours of community service for the school.