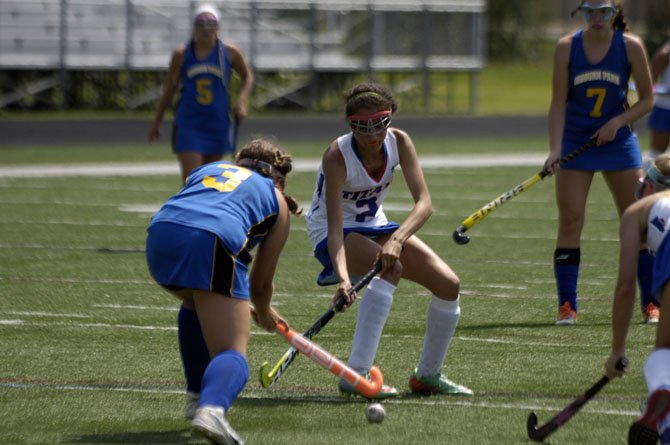 After holding opponents scoreless during an 8-0-1 start, the T.C. Williams field hockey team surrendered its first goals and suffered its first loss of the season on Sept. 19 in Burke, falling to Lake Braddock, 3-2, in overtime.
The Titans returned to the field on Tuesday, hosting rival West Potomac. Would T.C.'s first loss have any effect on the team's performance?
"It didn't affect our mentality at all," Titans head coach William Heresniak said. "It made us more mentally strong knowing we could come back ..."
It was back to business for T.C. Williams as the Titans scored in the final minute of the first half and cruised to a 3-1 victory over West Potomac at Minnie Howard on Sept. 23. The win improved the Titans' record to 9-1-1, including 2-1 against Conference 7 opponents. In 11 games, T.C. Williams has outscored the opposition 37-4.
The Titans dominated Tuesday's first half, finishing with a 10-0 advantage in penalty corners, but had nothing to show for it, initially. Finally, Claire Bilodeau found the back of the cage with 26 seconds remaining, giving the Titans a 1-0 lead they wouldn't relinquish.
Mimi Hyre scored T.C.'s second goal with an assist from Emily Moncure with 18:18 remaining in the second half. Three minutes later, senior captain Meredith Caine found a way to sneak the ball past West Potomac keeper Eve Hauptle from a tough angle to the right of the goal, giving the Titans a 3-0 advantage.
T.C. Williams finished with a 14-3 advantage in penalty corners.Caine said the Titans have to stay focused and can't get caught up in their early-season success, but acknowledged how well the team has played.
"We have been outstanding defensively," Caine said. "… [Allowing just four goals] says a lot about our team as a whole."
Heresniak called sophomore goalkeeper Sarah Leckman a "huge asset," and said the team's defense could improve with more support from forwards and midfielders.
"Our defense is stable," he said, "we want to become more stable."
With the loss, West Potomac dropped to 4-5. Sophomore forward Allie Wood scored the Wolverines' lone goal with 10:10 remaining in the second half. Senior captain Lizzie Wood had the assist.
Hauptle, a senior, finished with 16 saves.
"She's our rock back there," West Potomac head coach Dana Hubbard said. "She's a first-team all-conference [caliber goalkeeper] and she plays like it. She's the reason we're in a lot of our games. … Without her, I don't know what the score would be."
T.C. Williams will host South County at 7:30 p.m. on Wednesday, Oct. 1. The Stallions are 6-5, but have won five straight games.
West Potomac will travel to face Lake Braddock at 7:30 p.m. on Friday, Sept. 26.