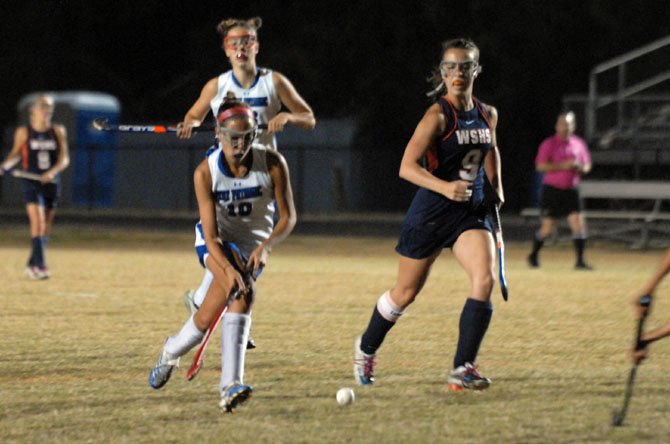 Twenty-one corners and quality ball movement provided the West Springfield field hockey team ample offensive opportunities against West Potomac on Oct. 1. But after finding the cage only once in regulation, the Spartans needed someone to make a play.
Kara Kachejian and Sydney Salter answered the call.
Kachejian flicked the ball toward the goal in overtime and Salter tapped it in the cage as the Spartans extended their winning streak to five games with a 2-1 victory over the Wolverines at West Potomac High School.
West Potomac captain Amy Holm scored late in the first half to give the Wolverines a 1-0 advantage. West Springfield captain Jocelyn Siveroni answered with 18:35 remaining in the second half, tying the score at 1. While West Springfield had many opportunities to win it, the Spartans had to sweat it out until Salter put in the game-winner.
"I took the shot and it went between [West Potomac goalkeeper Eve Hauptle's] pads," Kachejian said. "I went around her and I did a reverse flick and it started dribbling into the goal. We had no idea if it was going in and then my teammate [Salter] tapped it right in to make sure it was going in."
West Springfield head coach Rosie Donaldson said the Spartans moved the ball well but need to do a better job finishing.
"I think getting to the goal, we played really well," Donaldson said. "We were able to move the ball down the field, we had a good transition, we just couldn't finish. Twenty-one corners, you've got to put it in more than once."
After a 2-1-1 performance during the Under the Lights Tournament at Lee High School on Aug. 26 and 27, West Springfield lost four straight against strong competition: Fairfax (region semifinalist last season), Westfield (defending region champion), Herndon (started 9-1 this year) and South County (last year's region runner-up). The Spartans have responded with five consecutive victories, beating Hayfield, Robinson, Annandale, Woodson and West Potomac to improve to 7-5-1.
Donaldson said the Spartans, who graduated many key players from last year's team that finished one win shy of the state tournament, can experience similar success if they can find a way to capitalize on opportunities.
"I think having [to face] those really good teams right at the beginning showed everyone they've got to pick up their level of play," Donaldson said. "Unfortunately, it didn't help us in the finishing area. … We can do as well as we did last year as long as we can get that final piece."
West Potomac fell to 4-8, but head coach Dana Hubbard said the team's offense has improved.
"I think they played really well," Hubbard said. "It was probably one of the better games, offensively, that we've played. It's disappointing that we weren't able to put it away, but definitely a much better effort than our game against Woodson (3-0 loss on Sept. 24)."
Hubbard said junior forward Lizzie Wood and senior midfielder Marjie Woods, a captain, played well against West Springfield.
"We play in a rough district," Hubbard said. "If they can play this way offensively and we can fix the things that we need to defensively, I think we're in good shape for the postseason."
West Potomac will travel to face Lee at 5:30 p.m. on Friday, Oct. 4.
West Springfield will host T.C. Williams at 7:30 p.m. on Monday, Oct. 7.